October 05, 2011 -
National Football Post
Prospect of the day: Arkansas WR Jarius Wright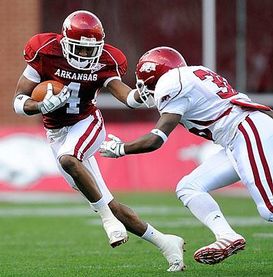 ICONWright can create with the ball in his hands.
WR Jarius Wright: No. 4 (5-10, 180)
An undersized, shifty little receiver with good balance and footwork as a route runner both from the outside and from the slot. Does a nice job selling routes inside, cleanly is able to breakdown, keeps his feet under him and generates a burst/separation out of his breaks. Has the body control/balance to do the same on the outside vs. off coverage. Eats up the cushion quickly, drops his pad level well on a dime when asked to run the deep out and can separate or even turn the play up the field on a double move. Has improved vs. press coverage as a senior, isn't a real physical threat. But has enough wiggle to gain a step and separate off the line.
Exhibits the ability to adjust and pluck throws off his frame, but looks content to simply trap passes against his chest when throw on target. Tracks the ball well vertically and can behind defenders off the line, but isn't a guy who's going to win in jump ball situations. A tough kid though, will hold onto the football in coverage, take a lick and still come down with the catch. Displays good short area quickness with the ball in his hands and has the initial burst/speed to outpace angles in space. Has some real savvy about his game underneath, recognizes coverage's well, sits down in soft spots underneath and works his angles well toward the quarterback
Impression: A coordinated slot guy who is sharp as a route runner, tough over the middle and knows how to get open vs. man and zone. Is an inside player at the next level who should carve out a niche for himself early in his NFL career.