November 16, 2011 -
Barry Dorey
Prospect of the day: Arkansas WR Joe Adams
The Breakdown…

WR Joe Adams: Arkansas (5-11, 190)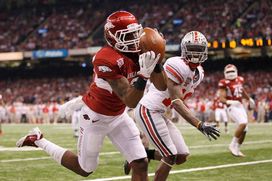 ICONAdams can go get the football.
Looks smaller and thinner on tape than his numbers indicate. However, is a good athlete who has some wiggle off the line getting into his routes. Sets up his routes well from the slot. Does a nice job changing gears, selling the shoulder fake and displays the balance/fluidity to sharply get out of his breaks with a burst. Snaps his head around quickly and locates the football. However, isn't quite as sharp/precise as a route runner when asked to run routes at full speed, gets leggy out of his breaks, gears down and struggles to generate the same kind of burst. Is inconsistent plucking the football. Lets far too many throws go through his hands and needs to do a better job securing the catch on all areas of the field. Looks a bit weak in the wrist. Adjusts well to the ball and isn't afraid to take a lick over the middle, but looks content to trap the ball on his chest too often.
At his best running vertically down the field. Demonstrates good straight-line speed, has a second gear when he can put his foot in the ground and track the pass. Is a tough guy to overthrow. Showcases some shiftiness off the line vs. press when he wants to get behind corners, but lacks the physicality to fight off defenders when trying to gain an inside release. Is coordinated/shifty with the ball in his hands. Possesses "plus" "make you miss ability" and can create after the catch. Isn't real physically built and isn't going to break many tackles in space as he gets tripped up easily by defenders.
Impression: An explosive athlete who can go get the football down the field and has some savvy to his game setting up routes. However, is inconsistent catching the football and as a route runner. Nevertheless, does enough well to make a roster and see playing time inside and out at the next level. An ideal fit for Philadelphia running the deep crossers.

Follow me on twitter @WesBunting

Check out the 2012 NFP Draft Page…