November 03, 2011 -
Barry Dorey
Prospect of the day: Boise State DE Shea McClellin
DE Shea McClellin: Boise State (6-3, 258)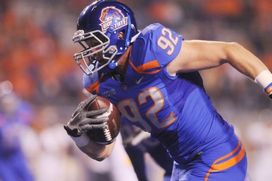 ICONMcClellin knows how to find the football.
A versatile, explosive athlete with a mighty motor who knows how to reach the quarterback. McClellin possesses a solidly put together frame with a strong upper body which maximizes his length into contact. He plays all over the Boise State defense. He will play with his hand on the ground, can stand up and rush from a two-point stance and will blitz from the inside as well. He exhibits an explosive first step off the ball both with his hand on the ground and standing up. He can also coil up into his stance, stay low initially off the football and threaten the edge with speed. He does a nice job timing up the snap count and is routinely one of the first lineman moving off the ball. McClellin doesn't waste any motion from a two-point stance either when threatening the backfield. His weight is consistently in his front foot and that generates a burst attacking the backfield. He also displays a real know-how of getting to the quarterback and he possesses a solid pass rushing arsenal. He isn't the most flexible of athletes, but will drop his pad level around the corner, sink his hips and turn the corner. He's balanced/fluidity laterally when working a counter off his speed rush. He gets a bit upright, but extends his arms well, is strong in the lower half working through contact and accelerates well through contact. Also, McClellin extends his arms well at the point, can initially create a pop to gain space and possesses a solid initial burst once he gains a step. He's clever when asked to stunt, disguises his intentions well and works endlessly toward the quarterback.
He also plays the run well for his size, is patient when taking on blocks, extends his arms well and has a violent set of hands. His combination of body control and hand strength allows him to keep himself clean into contact, fend off the block and work his way in pursuit. He is a solid anchor player who can run as well and will make plays off his frame. He likes to run around blocks more so in space and at times will take himself out of plays. Also, McClellin is often asked to drop off into coverage and is a solid athlete in man. He keeps his feet under him, exhibits some natural balance/fluidity in the hips and can re-direct and close on the football.
Impression: McClellin is a productive pass rusher with a big motor, good skill set and can get after the QB in a number of ways. Looks like a potential starter at the next level.
Check out the NFP's 2012 NFL DRAFT PAGE