December 01, 2011 -
National Football Post
Prospect of the day: Boise State OT Nate Potter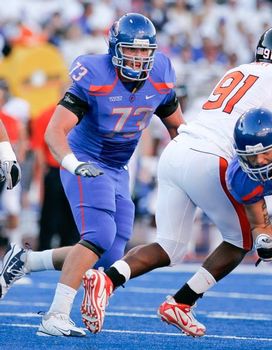 ICONPotter is natural on the move.
OT Nate Potter: Boise State (6-6, 295)
Potter is a more athletic looking lineman with only average length. He isn't a naturally wide kid through the hips, but has enough natural width to add some more girth through the base. He's a natural bender who sits low into his stance, keeps his base down in his kick-slide and is comfortable bending at the knees in the pass game. He's a "plus" caliber athlete who exhibits superior range off the edge, looks much more natural getting into the second level and laterally holds up much better when asked to shuffle and slide in pass protection. Potter remains patient in pass protection, looks natural working his hands through contact in order to gain leverage and sits into his base better when trying to anchor. He's an athlete capable of handling NFL caliber athletes off the edge in pass protection. He exhibits good range, is balanced when asked to slide his feet laterally and works his hands through contact. However, he needs to get stronger through the lower half because he currently struggles with college power. And if you can't handle power in the NFL, you'll make everyone you go against look like a good pass rusher. Therefore, getting stronger through his lower half is the key to his success in the NFL.
He exhibits the ability to get around and seal on reach blocks and looks comfortable through contact on the move as well. He lacks the type of power to really drive NFL caliber defenders off the ball, but is sticky through contact, understands angles and does a nice job staying engaged through the play.
Impression: Potter, in my book, is a poor man's version of former Boston College LT Anthony Castonzo, as he has the talent to earn a starting job in more of a zone scheme, but is going to need a year or two before he's ready physically to mature into the player he's capable of becoming.
Follow me on twitter: @WesBunting
Check out the NFP Draft Page...