October 11, 2011 -
Barry Dorey
Prospect of the day: Boise State QB Kellen Moore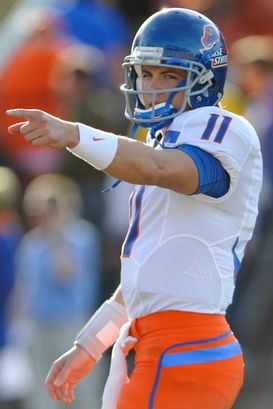 ICONMoore has a great feel for the game.
Kellen Moore: No. 11 (6-0, 195)
An undersized quarterback prospect who lacks ideal height for the position, measuring in at 5115. He struggles to consistently see over the line of scrimmage anytime he feels pressure and is too often forced to drift away from throws. Also, he lacks an ideal physical skill set. He doesn't possess the arm to make all the throws asked of him at the next level. Those passes tend to hang on him and he doesn't possess the ability to put the throw on a line down the field. Now to his credit, he does do a nice job anticipating routes, staying in proper rhythm in the pass game and he has a natural feel when the football needs to come out. Plus, his pocket awareness is very good, as he's subtle with his movements to buy time in the pocket, maintain balance and transfer his weight well through the throw when he has time and needs to create an angle for himself. He's very accurate with the football. His ball placement underneath is at a "plus" level as he hits receivers in stride consistently and allows them to run through the throw. He also exhibits "plus" touch down the field, dropping the football into tight areas at the 2nd/3rd level.
However, despite his "plus" accuracy even when falling off throws, he's simply not a guy who is going to force a defense to cover the entire field at the next level because of his limited arm strength. Furthermore, because of his limited size when there is a push in the pocket right into his face, he doesn't have the stature to routinely find a throwing lane in order to deliver the football without drifting away from pressure. Therefore, he's too often forced to fall off throws, negating his arm strength even more and giving defenders a better chance to make a play on the football. He gets away with a lot of throws at the college level down the seam and at the second level because the defenders he sees every week don't have the range to make plays on the football. The tighter windows in the NFL make me worry about his chances.
From a mental standpoint, Moore grades out about as high as you can in this area. He's able to decipher information quickly, he's a magician with his pre-snap reads and routinely finds secondary targets underneath and locates his hot man. He's the son of a high school football coach, is a proven winner and has taken his team on the road, against adversity, and beaten some very good football programs. He's a hard worker who puts in the time and because of that warrants a pick and a potential roster spot.
Impression: I see him more as a later round type pick/reserve only whose playing career will end up being closer to say a Koy Detmer type quarterback than a Drew Brees.