September 28, 2011 -
Barry Dorey
Prospect of the day: Boise State RB Doug Martin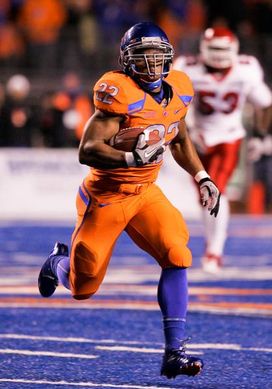 ICONMartin is built thick and low to the ground.
RB Doug Martin: No. 22 (5-9, 215)
A thick, compact back who is built low to the ground, runs behinds his pads and is a tough guy to wrap on. Martin exhibits a good initial first step when asked to press the line of scrimmage. He isn't a dynamic straight-line athlete, but he plays faster than he times because of his ability to reach top end speed quickly. He is quicker than fast, showcasing impressive lateral fluidity and balance with the footwork to pick his way through traffic, maintain balance and make defenders miss. He's consistently able to side-step/break would be tacklers in tight areas. He creates a significant amount of yards through contact because of pad level, balance and overall low body strength. However, he possesses the short area quickness to plant his foot in the ground at full speed, change directions and accelerate up the field. He possesses a good feel in tight areas, and is natural setting up blocks and running between the tackles.
He displays a "plus" burst out of his breaks and can instantly separate from defenders in the open field. Martin likes to finish runs, drop his pad level well into contact and consistently makes himself small, allowing him to knife his way through tight holes and really run his legs through any type of contact. He's effective on the perimeter as well, setting up blocks pressing the edge and making his way toward daylight. Again, he lacks big time straight-line speed in the open field and isn't a dynamic power back who can simply push the pile at the next level and run through tackles. However, he plays more powerful than his 5-9 frame would indicate because he runs with such good leverage.
Martin looks natural in blitz pick-up as well and slides his feet well laterally, is patient into contact and can anchor with success. He's comfortable out of the backfield as well plucking the football and isn't going to create one-on-one, but is effective in the screen game.
Impression: Martin isn't a dynamic size/speed back, but there aren't many negatives to his game as a back. He plays fast, runs low, is natural through the line of scrimmage and has a skill set somewhat similar to former Alabama RB Mark Ingram last year. He might fall a bit because he doesn't run overly well, but he has the skill set to start in the league.