September 22, 2011 -
Barry Dorey
Prospect of the day: Cincinnati QB Zach Collaros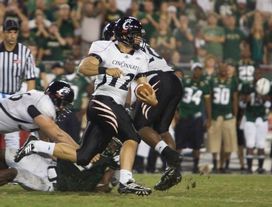 ICONCollaros is always a threat to take off and run.
Zach Collaros: No. 12 (6-0, 223)
A shorter, undersized quarterback prospect who seems to struggle to see over the line of scrimmage at times and routinely gets a number of his passes knocked down at the line. Plays mostly from the gun and does a good job with his pre-snap reads understanding the defense, locating his target and getting the ball out quickly. Stays compact with his footwork and his release is much quicker underneath. Possesses good touch and accuracy down the field, drops the football into tight areas and is very comfortable completing bucket throws down the field. However, the further down the field he's asked to throw, the more of a wind-up he gets with his release and then he really needs to step up into throws in order to generate enough momentum for himself to get passes vertically.
Possesses a good feel in the pocket, and is a natural athlete who not only can buy time for himself but create with his legs. Is a "plus" runner for the position in the open field, has some wiggle to his game with the strength to bounce off a tackle and keep churning his legs. However, relies too much on his legs at times and his eye level has a tendency to drop too quickly. He's at his best when asked to improvise, however, looks to create on his own too often. If his pre-snap read isn't on, he has a really tough time going through his progressions from the pocket. Is limited to more of a one side-of-the-field, read-only guy who routinely looks to take off and run if nothing is on. Will hang in the pocket and stare down the barrel of the shotgun in order to deliver the throw. However, doesn't stay real balanced with his footwork. He trusts his accuracy and touch and routinely will fall off throws or not set/reset his feet into a throw. Can create some plays out of nothing, but too often causes his accuracy to run hot/cold. Lacks a big time arm, spins a clean football, but doesn't have the natural arm strength to really drive the ball outside the numbers.
Had to appear in court as a sophomore for being caught with a fake ID.
Impression: Looks more like an ideal CFL type quarterback where his athleticism and ability to improvise will serve him well. Lacks ideal arm strength, size and coming from a spread, his learning curve looks to be too severe to make an NFL roster.