October 17, 2011 -
National Football Post
Prospect of the day: Clemson DE Andre Branch
DE Andre Branch: No. 40 (6-5, 260)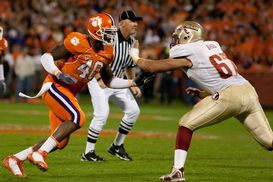 ICONBranch does a nice job maximizing his length.
A tall, long armed defensive end prospect with an athletic looking frame, good girth through his mid-section and has the size to get even bigger. Displays natural flexibility to keep his base down and sit into his stance. At times will uncoil at the waist and not eat much grass initially off the ball vs. the run game. However, when he does get off the ball on time -which at times is a struggle- he always extends his long arms well, can gain initial leverage and anchor on contact. Uses his length well to control blocks, is a coordinated kid through contact who maintains balance and exhibit good violent with his hands. Can stack and shed on the outside, will violently rip off blocks and has the range in pursuit to make plays off his frame. Is also very disciplined playing on the backside. Locates the football well, closes the back door from the backside and doesn't get caught taking himself out of plays. Plays his outside contain with good integrity.
Possesses an average initial burst off the edge, but doesn't have the ability to consistently threaten the corner. Likes to get to the edge and work through contact. Extends his long arms well and did a better job at the end of the year dropping his pad level into contact and incorporating his outside club in order to slip blocks and close around the corner. However, he isn't real sudden through contact, and possesses solid power when working the bull rush. His butt gets upright, which takes away from his lateral quickness, and can be slower to shed. Likes to work the initial outside shimmy and break off a hard inside move and try to threaten the C-gap at times. When he gains a step, he has the ability to fight his way upright despite his higher pad level. However, struggles with guards when they can get their hands on him and anchor. He doesn't showcases much in the way of disengaging skills. Did a better job as a senior dropping his pad level and dipping under tackles when trying to reach the corner, but struggles to stay down when trying to flatten out around the edge.
Impression: Has a lot of untapped talent. Can be a very good run player who has the power and length to push the pocket and shed blocks with more development. Never going to be a big time pass rusher, but should be able to work his way into rotation early and potentially could start down the line.