September 26, 2011 -
National Football Post
Prospect of the day: Colorado OL Ryan Miller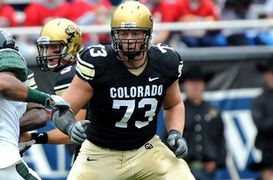 ICONMiller can bend for a tall lineman.
OG Ryan Miller No. 73 (6-8, 312)
At 6-8, Miller possesses the frame more so of an offensive tackle prospect than guard. He has the ability to sit into his stance and keep his butt down off the football. However, at his size it makes it tough for him to gain leverage on contact in both the run and pass game. To his credit he does a nice job creating a snap off the football in the run game as an in-line guy. Doesn't waste much motion and does a decent job keeping his pad level down. However, has a tough time gaining leverage. Allows defenders to get under him and can be initially overwhelmed on contact. Works his hands well in order to gain inside position and pumps his legs through contact. Plays with a mean streak and is tough to disengage from once he gets his hands on you, but isn't a guy who will be able to create a push routinely off the ball inside in the NFL. Looks coordinated on the move, can pull from the backside, breaks down in space and can hit/seal on his target. Is quick footed and corded for his size, steps and seals quickly, looks comfortable on slide down blocks and is effective on the move.
His leverage struggles show up in the pass game as well. Initially will allow defenders to get under his frame and can be worked backward on contact vs. the bull. Is longer armed and it takes him a while to uncoil his length, as he doesn't deliver a great punch into contact. Isn't nearly the Velcro player vs. the pass he is vs. the run game. However, uses his length well when sliding laterally. Showcases good footwork/re-direction skills, can shuffle and slide in space, mirrors wells and uses his length to keep lineman from getting into his frame. However, isn't real heavy handed and too often can be easily disengaged from through contact.
Impression: The big guy can bend, but leverage is always going to be a struggle for him inside. However, he does have some natural balance/coordination to his game in both the run and pass game and in my mind is better suited to play as a right tackle at the next level in any scheme than guard.