October 28, 2011 -
National Football Post
Prospect of the day: ECU QB Dominique Davis
QB Dominique Davis: East Carolina (6-3, 210)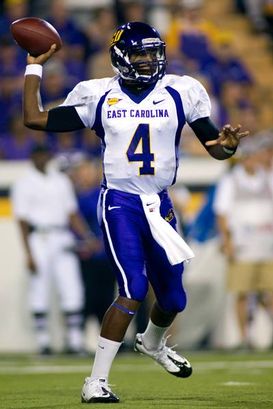 ICONDavis is a "plus" athlete with his legs.
He lacks ideal girth as a quarterback prospect. Davis doesn't have a ton of natural muscle tone through his mid-section and it looks like he has a narrow-type frame that will easily get banged up at the next level. He's an above-average athlete at the position, does a nice job maintaining his balance as he moves his way through traffic in the pocket, does a nice job keeping his eyes down the field and is quick to escape pressure. He lacks great burst/straight-line speed when asked to run away from defenders, but is athletic enough to throw on the move and pick up first downs with his legs when flushed.
He stands upright in the pocket, doesn't do a great job generating much torque from his lower half when delivering the football and doesn't really transfer his weight well off his back foot. Davis possesses a very average arm that doesn't stand out in any area of the game, but he's at his best on the move when he can create some torque from his waist. Overall, he struggles to really spin the football down the field, as passes tend to hang on him and he really lacks much of an arm on bucket throws. He too often gives defenders a chance to run under his throw vertically, as passes hang on him because he doesn't have the arm strength to cleanly get the football to receivers. He exhibits solid accuracy when he sees a throw initially, but he isn't a great decision maker. He has a tendency to trust his very average arm too often and will try to force the ball into pressure. When his initial read isn't on the route, he seems to speed up and isn't real quick to find secondary options and decipher pressure. He doesn't exhibit a quick release either; because of his lacking lower body mechanics, he has to wind up a bit to create velocity and wastes some motion because of it. He lacks an ideal mental clock in the pocket as well, doesn't know when to get rid of the football and subjects his offense to a fair share of negative plays.
Impression: A decent athlete with a very average arm. He at best looks like an athlete free agent only.