November 28, 2011 -
National Football Post
Prospect of the day: Florida ATH Jeffery Demps
RB Jeffery Demps: Florida (5-7 191)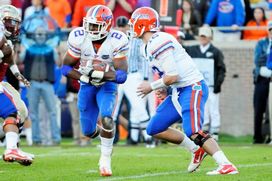 ICONDemps can create in space.
A dynamic athlete with elite initial burst and straight-line speed, he looks like he's playing at another gear. A consistent threat when asked to run to the perimeter. Starts and stops instantly, is fluid in the hips even at top end speed with the balance to consistently make defenders miss. Has matured as an runner, does a better job being patient setting up blocks both inside and out last year, not looking to bounce as many plays outside and outrun everyone. However, still needs to improve further in that area. Is more of an instinctive runner in space making defenders miss than reading the line of scrimmage and setting up blocks. Lacks the type of size/frame to hold up consistently as an every down back. Struggles with durability when asked to carry the heavy load and goes down too easy on contact inside.
However, is still at his best pressing the edge and playing in space. Is a homerun threat every time he touches the football. Exhibits impressive balance laterally and routinely outpaces angles at the second level. Has elite cutting ability even at full speed. Makes defenders think he's going to initially outpace them outside only to stick his foot in the ground and leave them in the dust. Does a great job sinking his hips and making himself small when changing directions, really generating a burst out of his breaks. Keeps his pad level down for the most part when running inside, just lacks the kind of natural size/power to create through contact. Will lower his head and run behind his pads when asked to finish, but doesn't have the frame to wear down opposing defenses and is at his best when his touches are limited.
Is comfortable in the screen game and handling the football while running the option. Catches the football when open, but struggles in traffic at times. Developing as a route runner, however at this stage would rather just run away from defenders. But if you play him in the slot with a two way go he's going to be impossible to keep pace with even at the next level. Is a tough kid as well who has played special team, not only as a dynamic kick return option but has also blocked a punt.
Impression: If he's committed to football over track, the guy can be a dynamic sub package option for an offense in the NFL. A big play threat who can create miss-matches in the pass game and hit the homerun when you get him in space.
Follow me on twitter: @WesBunting
Check out the NFP Draft Page here...