November 30, 2011 -
Barry Dorey
Prospect of the day: Florida State CB Mike Harris
CB Mike Harris: Florida State (5-11, 195)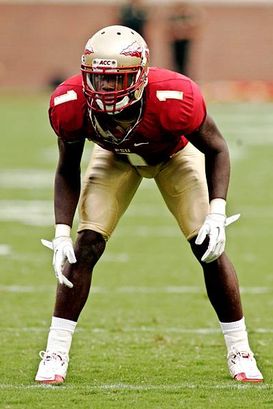 ICONHarris can play both inside and out.
A former JUCO kid who made an immediate impact in the FSU secondary as a junior in 2011. Has experience playing both inside and out, possesses average height, but a physically put together frame. Demonstrates good power into contact in the run game. Is fearless as a tackler, generates a good burst closing into contact, stays low, wraps and is a physical striker for his size. Takes good angles toward the ball carrier, breaks down well and is far from a drag down guy. Creates collisions on contact, always seems to be working toward the football and is a "plus" tackler for his size.
Tries to sit low into his stance but tends to bend too often at the waist and get hunched over. However, stays low in his drop, does a decent job keeping his feet under him and showcases the fluidity and bend to stay low and create an explosive first step when changing directions. Does a nice job keeping his pad level down, which allows him to create a burst from his lower half. Now, has a tendency to get a bit overextended with his footwork out of his breaks and I would like to see him stay a bit more compact, but he still exhibits the ability to collect himself quickly and close on the football. Demonstrates good range off his frame, has a natural feel for the football in zone when asked to close with "plus" ball skills down the field.
Isn't afraid to be physical off the line and press. However, has a tendency to hop toward his target off the snap, isn't real balanced or technically sound with his hand placement when trying to re-route. Fluidly, is able to turn and run and possesses solid play speed, but isn't a burner. Looks like a high 4.4/low 4.5 guy who will give up initial separation vs. faster receivers. Tracks the ball well, for the most part will locate the throw and exhibits the balance to make a play.
Impression: Looks like a physical slot guy to me who can play in both man and zone concepts, and will tackle the football.
Follow me on twitter: @WesBunting
Check out the NFP draft page here...