November 08, 2011 -
National Football Post
Prospect of the day: Florida State LB Nigel Bradham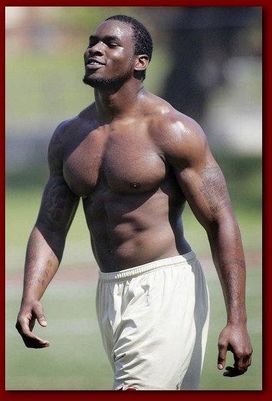 ICONBradham certainly has the physical make-up to play at the next level.
LB Nigel Bradham: Florida State (6-3 240)
Possesses a thick, muscular stature and is thickly put together with natural muscle tone/girth through both his upper and lower halves. Exhibits a natural explosive element to his game when asked to click and close. Exhibits a good first step, stays down and can drive on the football under him. Possesses below average instincts and read/react ability vs. the run game inside, is slow to react to the football, and struggles to quickly key off blocks and find the ball carrier. Takes himself out of a lot of plays with false steps and too often will seal himself from the action inside, though he does exhibit good range in pursuit. He runs well sideline-to-sideline, closes with a vengeance and plays the game with bad intentions. Is a solid wrap up guy who brings his hips/legs through contact and will routinely get his man to the ground. Does a decent job beating blocks when he knows where the football is. He keeps his pad level down, can fight his way through contact when he gains an angle, and will use his hands at times to keep himself clean.
Exhibits natural bend when sitting into his drop in coverage, keeps his legs under him and gets good depth off the line. Again, clicks and closes well on plays under him and can drive on the football but he's tighter in the hips when breaking down. He struggles to quickly re-direct, needing to gather himself too often and will lose steps getting out of his breaks. Can also easily be sidestepped at times when driving on the ball carrier. Is physical in man coverage down the field, and uses his strength/balance to initially stick with backs out of the backfield. However, he struggles to quickly re-direct, making up for a false step to some degree with his closing burst, but for the most part lacks the length to get his hands around and make a play on the throw.
Impression: Is a physically built backer who can run and play in pursuit. However, he's tighter in the hips and isn't real instinctive. Needs to play OLB only in the NFL in more of a run and hit scheme as he won't be able to handle much volume. Has the talent to start, but might not ever live up to his skill set because of awareness problems.
Follow me on twitter: @WesBunting