November 29, 2011 -
National Football Post
Prospect of the day: Houston OLB Sammy Brown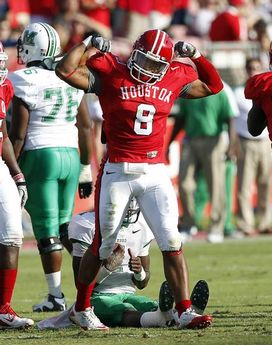 ICONBrown has shown the ability to rush the passer standing up off the edge.
OLB Sammy Brown: Houston (6-3 240)
Might be a little on the short side, but looks bigger because of his longer set of arms. Possesses solid girth through his frame and carries his weight well. Plays As an outside backer in Houston's 34 front and does a nice job as a pass rusher. Possesses a solid first step, can threaten the edge and despite being a little tight once he gains a step can drop his pad level and get around the corner. However, is a bit inconsistent when trying to drop under offensive tackles and at times will slow his feet and give his opponent an easy target to hit. Is at his best working a compact/sudden counter back inside. Does a nice job getting up the field and working an explosive arm over back inside as he quickly changes directions and gets up the field. Exhibits an average motor, is always on the go working toward the football, but doesn't always seem to be going 100 miles per hour.
Showcases solid instincts inside vs. the run game. Will drop his pad level into contact, gain leverage, and fight his way into the backfield. Is a bit inconsistent using his hands however. At times can extend, set the edge and fend off blocks. At other times wants to lead with his shoulder and can be washed out of the play. Is a solid tackler when looking to breakdown and uses his length well to trip up ball carriers inside. Has a tendency to get a bit upright into contact however, which will cause him to be jolted on contact. Gets "plus" range in his drop off the line of scrimmage. Initially can stay compact, but will get upright and leggy out of his breaks, but more of a case where he isn't asked to drop all that often.
Impression: A highly productive pass rusher who has come a long way since being a JUCO transfer. Has a feel for getting after the passer, exhibits a good burst and closing speed around the edge and is an intriguing 34-type prospect.
Follow me on twitter: @WesBunting
Check out the NFP draft page here...