October 27, 2011 -
National Football Post
Prospect of the day: Illinois OT Jeff Allen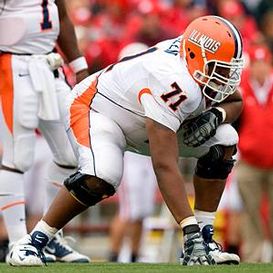 ICONAllen can quickly get off the football.
OT Jeff Allen: No. 71 (6-4, 315)
A thick, girthy offensive lineman who has experience at both right and left tackle. Doesn't possess a real athletic looking frame, most of his weight is right through the midsection and looks a bit sloppy. However, he can bend, plays low in pass protection and does a nice job keeping his base down on his kick slide and through contact. Possesses natural coordination and heavy hands through contact when asked to shuffle and slide.
However, is inconsistent with his hand placement and doesn't do a great job gaining inside leverage. Will allow defenders to fight their way through contact toward the edge and would like to see him display more of a punch/jolt into contact. His natural girth gives him decent anchor strength, but is more of a catcher, doesn't do a great job extending his arm and jolting defenders on contact. Does a better job keeping his base down in the run game. Looks more comfortable from a two-point stance getting downhill and coming off the football.
Works hard to stick through contact, extends his arms well, generates a slight pop and can turn defenders away from the play. However, allows himself to get upright into contact and doesn't create the leverage needed to consistently overwhelm. More of a sticky player than explosive power/in-line guy. Can be overwhelmed at times on contact when a smaller defender can get under him and will set the edge. Is quick off the snap, can get around on reach blocks and does a nice job sealing on the perimeter. Plays more like a finesse guy than his frame would lead you to believe.
Impression: He's not an overpowering run blocker, but is smooth and coordinated in pass protection, can keep his base down and warrants a higher grade because of it.