November 21, 2011 -
National Football Post
Prospect of the day: Iowa State CB Leonard Johnson
The breakdown…

CB Leonard Johnson: Iowa State (5-10 202)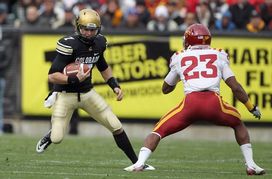 ICONJohnson isn't afraid to breakdown and tackle.
A compact, well sculpted corner with a narrow waist but good overall musculature through his base. Displays the ability to sit into his drop, keep his feet under him and maintain balance out of his breaks. Showcases natural mirror ability off the line of scrimmage and does a nice job shooting the proper hand in press coverage, re-routing the receiver and turning to run. Possesses solid straight-line speed down the field, but is fluid out of his transition and gets back up to speed quickly because of good balance. Reads the wide out well vertically, looks and leans, and can routinely snap his head around and locate the football. Possesses good body control when asked to adjust and get his hands on the football consistently, however, he displays only average ball skills when looking to come down with the pick.
Looks comfortable in off/zone concepts as well, gets a bit fidgety at times with his footwork and will jump backwards at times, causing him to waste some motion, especially when looking to drive on throws under him. Looks natural sitting into his drop however, angling properly on the receiver's route and can fluidly open up his hips and get up to speed in space. Needs to do a better job feeling his cushion however, and will give up too much separation at times under him and forfeit some easy completions. He does keep his feet under him and should be able to improve his click-and-close ability. Lacks an elite second gear, but plays fast because of fluidity and balance. He doesn't flash much in the run game, but fails to consistently take proper angles toward the football, doesn't break down as routinely as you would like and will slip off tackles. Needs to do a better job playing with better leverage on the outside when setting the edge. He can be sealed and doesn't defeat blocks overly well.
Impression: A well-built kid lacking ideal height, but plays fast and I like his footwork and balance. Isn't a dynamic athlete, but can play some press and off coverage, and looks capable of getting playing time both on the outside and in the slot at the next level.
Follow me on twitter: @WesBunting
Check out the NFL Draft page here...