November 14, 2011 -
Barry Dorey
Prospect of the day: Louisville TE Josh Chichester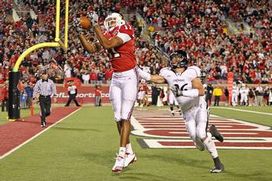 ICONThe big guy can adjust to the football.
TE Josh Chichester: Louisville (6-8, 240)
A tall, angular wide receiver/tight end tweener prospect who plays all over the Louisville offense. Isn't a great self starter, and is more of a strider who looks like a guy who needs to play from a two-point stance in order to be effective catching the football at the next level. Is a strider who builds speed as he goes, has the ability to run vertically breaking routes, track the football and is coordinated when asked to adjust to the football. Extends his long arms well, and can contort his frame and come down with the catch. Displays natural body control around the sideline and can get his feet down and maintain focus through the play. Isn't a real natural plucker of the football though, and too often lets the ball get into his frame and likes to secure it against his chest.
Doesn't play real quick in tight areas. He does a nice job lowering his pad level once he gains a step in order to fight through contact, but really glides into his breaks on sharply breaking routes and needs to use his strider speed in order to separate. Can run away from backers if he has enough space, but there is no real second gear to his game. Has the size to win on the edge as a blocker, but doesn't strike me as a guy ever being capable of coiling up from a three-point stance and winning off the snap.
Impression: A tall, long armed strider who can run vertical routes, track the football from the inside and come down with the catch. However, looks like a tall H-back type guy only who is more of a one-trick pony, limiting his upside.
Follow me on twitter: @WesBunting
Check out the NFP's new draft page here.