November 22, 2011 -
Barry Dorey
Prospect of the day: LSU C T-Bob Hebert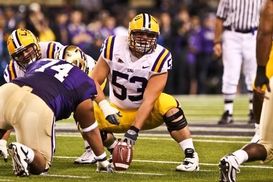 ICONHebert shows a natrual feel for the game.
OC T-Bob Hebert: Louisiana State (6-3, 304)
A thickly put together offensive lineman who carries a lot of weight through the mid-section and looks a bit top heavy. Possesses a sloppier build, which takes away a bit from his athleticism in space. However, displays solid initial quickness off the snap, gets his hands up quickly to shoot into contact. But, he's a stubby lineman who lacks ideal length, struggles to gain inside hand placement and doesn't have the type of lower body strength to get much of a push. Is routinely overwhelmed on contact in the run game when looking to get a push and can easily be rag dolled into the backfield. Now, to his credit he is a tough, gritty kid who works hard to stay engaged and even when driven backward he works hard to stay on the block and doesn't make it easy to disengage. Nevertheless, isn't a guy who can create any movement off the line. Is at his best using his quicks to get his feet around and seal inside. However, struggles with coordination/balance at the second level. Again, isn't a "plus" athlete struggles to drop pad level consistently and cleanly get into contact in space.
Is much more effective as a pass blocker. Showcases the flexibility to sit into his stance and display plus initial quickness off the line. Keeps his base down well through contact, can slide his feet laterally and extend his arms through contact. He again, can be overwhelmed vs. the bull rush inside. However, he is quick to re-set his hands, works well in tandem with his guards passing off defensive tackles and showcases enough quickness to mirror through space.
Impression: A tough, nasty try hard kid who has a clue in pass protection and works to stick to blocks in the run game. Is limited as a power player however, and looks like a free agent only.
Follow me on twitter: @WesBunting
Check out the NFP Draft Page here...