November 24, 2011 -
National Football Post
Prospect of the day: LSU QB Jordan Jefferson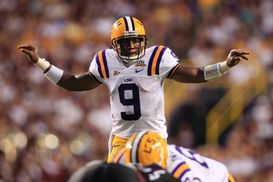 ICONJefferson has a lot of talent, but character will cause him to fall.
QB Jordan Jefferson: Louisiana State (6-5, 224)
A tall, athletic quarterback prospect who is a consistent threat to tuck the ball down and run. Possesses the ability to create with his legs in the open field and generates a burst at times to outpace angles in the open field. Displays a good feel in the pocket and an improved mental clock when asked to read a defense. A one side of the field read guy only who tries to go through his limited progressions, but if it's not on he is decisive taking off and trying to get all he can with his feet. Limited from the pocket though, doesn't trust what he sees, struggles to throw receivers open and needs to see an open target in the short/intermediate pass game in order to let the football go. Has experience throwing from both the gun and from behind center. Is athletic, takes a big first step and quickly gets away from the line, but struggles with balance when trying to settle himself and is inaccurate at times because of it. Gets too narrow and upright with his footwork in all areas of the game, doesn't consistently have a great base which really affects his accuracy and touch down the field. Also, needs to do a better job transferring his weight off his back foot to his front and seemed to rush too often trying to get the ball out.
Displays an above average arm, can stick some throws in the intermediate pass game and for the most part throws a clean football. However, balance will kill him at times, gets out over his front foot too quickly and passes tend to skip into the dirt. Isn't real compact with his delivery and there is a noticeable wind-up as he takes the ball back.
Missed the first part of the 2011 season because of his involvement at a bar fight and there are character/maturity issues.
Impression: A good athlete who is learning how to become a quarterback. Is very inconsistent throwing the football and his footwork is the biggest reason why. Struggles to trust his eyes and decipher info in the pass game as well and still has a lot of work to be done.
Follow me on twitter: @WesBunting
Check out the NFP's new NFL Draft Page...