December 02, 2011 -
Barry Dorey
Prospect of the day: Marshall DE Vinny Curry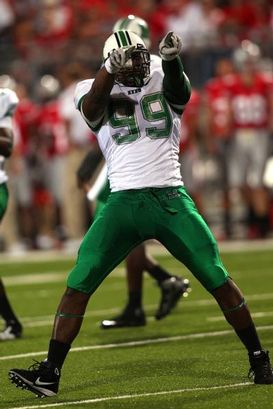 ICONCurry has the frame and athleticism to intrigue.
DE Vinny Curry: Marshall (6-4 263)
Possesses a compact frame, a longer set of arms for his size and good natural strength. Exhibits the ability to coil up into his stance and a good initial burst off the football. Does have some inconsistent ball awareness at times and will be late off the snap. However, for the most part gets off the snap in time, stays low initially out of his stance and extends his arms well. Possesses slightly above average burst toward the edge and exhibits some natural flexibility dropping his pad level around the corner. However, isn't the kind of speed rusher who can win with his first step/closing burst alone. Does a nice job playing as a power player. Extends his arms well, can rock tackles initially on contact and exhibits some suddenness to create space off his initial jolt slipping the block and closing while dipping around the corner. Uses his hands well at times and likes to work the arm over and rip once he gains a step to free himself. Also, exhibits some natural coordination and change of directions skills to side step a block once he gets to the edge and work his way back inside.
However, has a tendency to allow his pad level to pop upright if he doesn't initially keep himself clean. His hand placement is a bit inconsistent at times which allows defenders to stick to him even once he gains a step and push him past the play because of his pad level. Is clever and sudden, but doesn't look like a real dynamic athlete to me in any area of the game. Is a solid power player with a solid get off and above average change of direction skills, but isn't dynamic in any area which limits his upside as a pass rusher.
Showcases some natural power and burst off the ball vs. the run game. Can be explosive as a run defender, keeping his pad level down and working his way across the face of defenders and into the backfield. However, when he gets engaged, again will raise his pad level through contact and can be overwhelmed. Works his hands well in order to fight his way clean and is a good enough athlete to slip the block and close on the football. Showcases good initial quicks for his size and solid range in pursuit.
Impression: A strong kid with good movement skills and the production to go along with the skill set. Isn't a dynamic athlete but has the ability to keep tackles off balance and be a solid pass rushing force.
Follow me on twitter: @WesBunting
Check out the NFP Draft Page...