November 01, 2011 -
Barry Dorey
Prospect of the day: Michigan C David Molk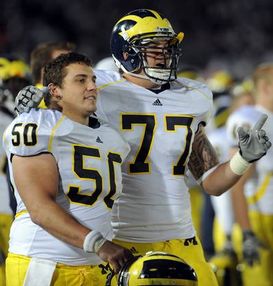 ICONMolk uses his shorter frame to gain consistent leverage.
OC David Molk: Michigan (6-2, 286)
A shorter, compact lineman who looks nearly maxed out physically, despite weighing 288-pounds. Looks a little tight hipped trying to sit into his stance, but has a quick first step, and snaps and steps very quickly. Creates leverage for himself consistently, extends his arms and can easily reach and seal on plays off his frame. Displays a compact, sturdy punch and can stun defenders at the point. Looks really natural when asked to quickly reach block on runs to the perimeter, as he's coordinated getting his feet around and can seal the edge routinely. Displays natural range/balance getting into blocks at the second level as well. Breakdowns well showcasing the ability to routinely seal on contact.
Now, lacks the power to win as an in-line guy. Keeps his base down, but doesn't have the lower body power to create a push inside. However, does do a nice job chipping at the line, re-directing and reaching secondary targets. Displays great awareness in the run game as well and routinely carries out assignments.
His tightness in the hips shows up more so in pass protection where he has the initial first step and foot quickness to reach defenders off his frame, but gets upright, isn't real long armed and struggles to gain leverage and anchor on contact. Can routinely be overwhelmed vs. the bull rush inside and needs to play in tandem. Possesses some natural shuffle and slide ability in space, extends his arms well off the snap, keeps his base under him and can mirror initially. Will struggle with leverage because of arm length and is inconsistent with hand placement at times hurting his ability to stick to his man. I can't see him holding up routinely inside one-one-one in the pass game vs. powerful NFL caliber defensive tackles.
Impression: A perfect fit for the Michigan's run first spread offense where he consistently plays to his strengths. However, he's an overachiever who looks like a potential starter in only a zone scheme in my view.
Check out the NFP's new 2012 NFL Draft PAGE...
Follow me on twitter: @WesBunting