November 23, 2011 -
Barry Dorey
Prospect of the day: Michigan State QB Kirk Cousins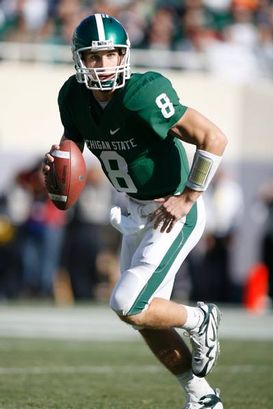 ICONCousins is a solid athlete on the move.
QB Kirk Cousins: Michigan State 6-3 205
A savvy/experienced Big Ten quarterback who possesses natural leadership qualities and is the one guy everyone on the Michigan State offense seems to rally around. The guy is simply a winner. Has experience working in more of a pro style offense, looks comfortable/balanced taking snaps from center, settling his feet well in his drop and spins a really clean football. Lacks "plus" arm strength, but throws a very catchable football and has some upside in that area. As he adds more weight to his thinner frame his arm strength should improve. Nevertheless, he has the ability to make all the throws as long as he's in rhythm. Looks natural working off the play action game, sells the play fake well, snaps his head around quickly and displays nice touch when asked to drop bucket throws into his receiver's arms down the field. Ball placement/accuracy are both very good when he can stride into his target. He anticipates routes well, lets go of the ball on time and you can tell he has a natural mental clock of when the ball is supposed to come out. Displays a quick release as well and fundamentally he's very solid.
Deciphers information well, will step up into the pocket when he feels an outside rush, keeping his eyes down the field and can locate secondary receivers. However, too often his mind is already made up at the line of scrimmage. Gets caught with blinders on staring down his man and fails to routinely see underneath defenders in zone coverage. The majority of his picks aren't vs. the corner he's throwing at in man, but because he fails to see the coverage around him. Also, isn't real impressive when he feels pressure. Gets a bit fidgety in the pocket waiting for receivers to uncover and routinely falls off throws, causing his arm strength and accuracy to suffer. Needs to do a better job locating his hot man and living to fight another down. Is a solid athlete, can create with his legs and move the chains outside the pocket. Throws accurately on the run and seems to decipher info better when improvising on the move than from the pocket. Keeps a level head, gets his team in and out of plays quickly and always seems to be in control of the game.
Impression: A solid athlete who isn't overly impressive physically, but he has enough to make it in the NFL. Needs to take that next step in his understanding of the offense this year and cut down on the mental errors. However, he's a good kid, a hard worker and has some real similar qualities to some of the senior quarterbacks who came off the board this year (Ponder/Dalton). Nevertheless, his struggles with pressure could hold him back from ever becoming an NFL starter.
Follow me on twitter: @WesBunting
Check out the 2012 NFP Draft Page here...