October 19, 2011 -
National Football Post
Prospect of the day: Michigan State WR B.J Cunningham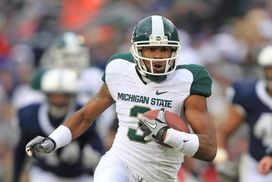 Cunningham is a big, good-looking target to throw at.
WR B.J Cunningham: No. 3 (6-2, 226)
A taller receiver who despite his weight, looks a bit leggy getting off the line and into his route, not quite as compact as his frame would lead you to believe. However does have a physical element to his game after the catch and when asked to go get the football. Doesn't waste much motion dancing once he gets his hands on the football. Gets his head snapped around quickly, puts his foot in the ground and likes to Stealing Sharp it right through the teeth of the defense. Displays strong hands and a powerful frame when asked to adjust and high point the football, looks like a power forward the way he comes down with the throw. Now, isn't real explosive off the line, a strider who takes a bit to get up to full speed. Isn't going to consistently run by defenders vertically at the next level, but he has the ability to gain speed as he goes and can be tough to keep pace with if a corner routinely sits on his routes as he displays the strength to shrug off a defender and turn his route up the field. Isn't real fluid out of his breaks, routinely is forced to slow his feet in order to break round and rounds of his angles consistently. Even when asked to run less sharply breaking routes he routinely rolls into his slants in the three step game.
Displays a good feel underneath working the short passing game. Recognizing zone/man concepts quickly does a nice job finding soft spots, breaking tackles and creating after the catch. Works well for his quarterback consistently drifting toward better angles and creating after his initial route is stalled. Plucks the football well away from his frame over the middle and is a natural plucker. However, will get lazy at times letting the ball into his frame, trapping it against his chest and occasionally will put the ball on the ground. Works a lot from the slot over the middle of the field and despite his physicality he's not real sudden off the line and strikes me as the kind of athlete who doesn't have the short area quickness needed to beat press on the outside in the NFL. However, vs. off man he has the kind of balance/grace needed to set up his routes and get his big frame between the ball and defender.
Broke his foot in December of 2010 and needs to prove he's clean medically.
<strong>Impression: Isn't real dynamic of an athlete and it takes him a bit to build speed. However, he can box out defenders, go get the football and break tackles after the catch. More of the big slot guy who can work the middle of the field and win in jump ball situations at the next level.