September 15, 2011 -
Barry Dorey
Prospect of the day: Mississippi State RB Vick Ballard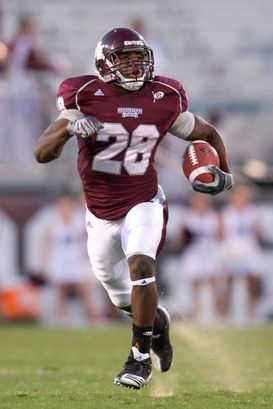 ICONBallard runs hard, but is a bit limited.
RB Vick Ballard: No. 28 (5-11, 215)
A tough, no-nonsense type runner who wants to get north/south quickly. Doesn't quite have the type of frame needed to hold up with his type of running style at the next level. Possesses good size, but isn't overly thickly built. Presses the hole well and loves to churn his legs through contact. Displays a good feel between the tackles, is patient when asked to read inside, sets up blocks well and hits the first hole he sees. Gets upright at times pressing space and/or when trying to make a man miss, but knows how to make himself small and does a better job lowering his pad level into contact, absorbing blows and maintaining his balance through contact. Runs hard and breaks a lot of tackles, consistently creating yards through contact inside. Looks a little tight in the hips, isn't a fluid change of direction guy who can routinely make a defender miss. However, he possesses the footwork/balance as a one-cut guy to feel his way on the zone plays toward the perimeter, stick his foot in the ground without wasting much motion and attacking up field. Doesn't have a great burst and is at best an average straight-line athlete who isn't going to outpace many angles in space.
Doesn't display the fluidity to make a man miss once he gets back up to full speed, displays some foot quickness in order to get a defender off balance in tight areas, but does his damage breaking tackles inside and not at the second level. Isn't real natural in the pass game at this stage, doesn't seem comfortable trying to separate vs. man, isn't sharp/sudden out of breaks and isn't going to be asked to do much more than work the screen/flair game. Isn't asked to help out in blitz pick-up much. He's a strong kid with natural coordination and has the skill set to hold up as a blocker; he just doesn't have much experience.
Impression: Possesses some natural running skills and is a strong kid who always falls forward. However, isn't going to break nearly as many tackles in NFL as he did in college and will struggle averaging over 4.0 yards per carry. Fringe roster guy.