November 15, 2011 -
Barry Dorey
Prospect of the day: Missouri DT Dominique Hamilton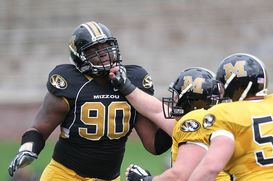 ICONHamilton needs to continue to improve his pad level rushing the passer.
DT Dominique Hamilton: Missouri (6-5 305)
A tall, long-armed defensive tackle with a thick, but athletic looking, frame. Still has the ability to continue to fill out, but carries his 305-pounds very well. Is at his best vs. the run game. He coils up well for a taller defensive tackle and can keep his base under him, with his back flat, and doesn't waste any motion getting off the football. Exhibits good ball awareness inside off the snap and has a "plus" first step for his size. He also does a nice job staying low off the ball, extending his arms into the chest plate of blockers and creating a jolt into contact. Works his legs through the point and has the lower body strength to overwhelm into the backfield and/or fight his way off of blocks when trying to one-gap. Does a nice job extending his arms through the play and controls blocks well through contact. Is strong armed and can anchor, but tends to get a bit upright through the play and gets straight-legged, which takes away from his ability to shed. Is a bit inconsistent at times locating the football as well, he'll sometimes take himself out of plays inside, but exhibits good range in pursuit, can play off blocks and has a good motor working toward the football.
Is still developing as a pass rusher. He displays some get off burst and athletic ability when asked to stunt inside and close, but he struggles to keep his pad level down as effectively off the ball when trying to rush the passer. He gets upright, which limits his get-off burst and power into contact and he can be easily handled on contact. Doesn't use his hands as well to violently shed and isn't real laterally sudden when trying to side step defenders. He played in only seven games last season due to a broken ankle and might have some medical concerns going forward.
Impression: Plays the run much stronger than his frame would indicate. He's got a burst off the snap, plays with leverage and extends his long arms. Has the frame to add 15 to 20 pounds and could get some real looks as a 34 nose or even a five-technique if he stays at 305. Either way, if he can stay healthy he looks like an intriguing prospect because of his ability to win vs. the run.
Follow me on twitter: @WesBunting
Check out the NFP's 2012 Draft page here...