October 04, 2011 -
Barry Dorey
Prospect of the day: NC State LB Audie Cole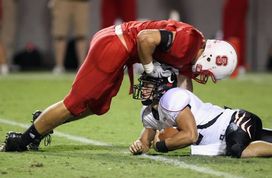 ICONCole has some nasty to his game.
LB Audie Cole: No. 42 (6-5, 239)
A tall, long-armed linebacker prospect who possesses the size to add even more girth to his athletic looking frame. For his size, he showcases natural fluidity, balance and body control vs. the pass game. He gets good depth off the line in his drop, keeps his feet under him and knees bent, and has the ability to sink his hips and get out of his breaks. Exhibits a good feel in zone coverage, can be physical with receivers/tight ends over the middle, possesses the awareness to feel routes developing around him and routinely gets early jumps on the ball. He also showcases a good burst out of his breaks, sinks his hips well when asked to re-direct, locates the football well and demonstrates the body control to routinely come up with the catch. Displays good short area quickness as well in man coverage, possesses a good, not great, closing gear, but plays fast and can quickly re-direct and stay in a receiver's back pocket. Possesses some savvy as a blitzer, but is not a natural pass rusher and fails to extend his arms and get upright off the corner. However, he times up the snap count well, disguises his rush and closes well when attacking downhill.
Possesses the range to run sideline to sideline vs. the run game. He exhibits a great motor in pursuit, works hard and is a solid wrap up guy, but he needs to do a better job inside the box extending his arms in order to shed. Doesn't have a ton of pop and too often leads with his shoulder into contact in order to anchor, but will struggle to get off blocks. Nevertheless, he reads and reacts quickly, picks his way through traffic and is quick to find the football. Gets a bit upright though when taking on blocks and can be overwhelmed through contact. Breaks down well on the ball, and will drop his shoulder under blockers trying to reach him off the edge and wraps well in space.
Impression: Played outside as junior and will kick inside as a senior. Looks better suited to play as a 43 OLB to me who has the skill set to start and play three downs for an NFL defense.