November 18, 2011 -
Barry Dorey
Prospect of the day: NC State TE George Bryan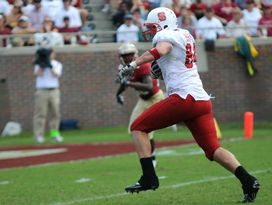 ICONBryan is never going to run away from anyone at the next level.
TE George Bryan: North Carolina State (6-5, 265)

A tall, thickly built tight end prospect with good girth through his lower half and with the size to handle NFL-caliber defensive lineman. Is a good run blocker who doesn't waste any motion getting off the ball. He keeps his pad level down, extends his arms and looks coordinated into contact. Doesn't get overextended with his footwork into contact, squares his head off with the chest plate of defenders and is a heavy-handed kid who can seal on the edge and create an initial push. Tends to get upright through contact and doesn't consistently run his legs as an in-line guy. The guy is heavy handed enough to stick and exhibits some mirror ability. Nevertheless, he has the ability to drive defenders off the line with some improved technique.
Isn't a real gifted straight-line athlete, but plays like a 4.8 guy. He does a great job staying low off the snap, exploding out of his stance and not wasting any motion getting off the ball. Is quickly able to get on top of defenders and pick up speed rapidly. Has the body control to adjust to throws down the field and is at least a threat down the seam. Locates the ball well, possesses good hands and will extend and pluck off his frame. Seems to lumber the further down the field he gets. However, he exhibits some short area quickness to his game off the line when beating the bump and uses his strong hands and long arms well as a route runner. He likes to be physical, getting in and out of contact quickly, knocking defenders off balance in the process, and will use his length to slip blocks as a route runner in and out of his breaks. Is a bit tight hipped when trying to break down, as he will chop his feet on sharply breaking routes vs. off coverage. Isn't going to run away from coverage either vs. man, but has a good feel for the game, knows how to set up routes and has enough short area quickness into right areas to separate and box out.
Impression: An NFL caliber "on the line Y", he isn't a dynamic pass catching option but has the ability to make plays underneath and at least threaten the seam and can develop into a plus caliber run blocker. Isn't quite dynamic enough to start in the NFL, but could end up being one of the better reserves at the position on the next level.
Follow me on twitter: @WesBunting
Check out the NFP's Draft Page here.