September 19, 2011 -
Barry Dorey
Prospect of the day: Nebraska DL Jared Crick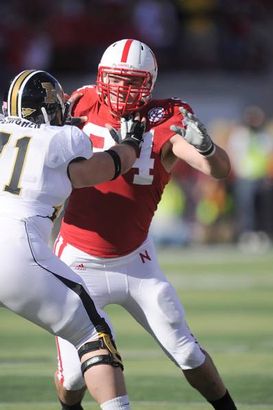 ICONCrick has a tendency to play too high.
DL Jared Crick: No. 94 (6-6, 285)
A tall, leaner defensive tackle with a long set of arms, but lacks ideal girth in the lower half. Is instinctive, gets off the snap count on time and does a nice job finding the football vs. the run game. However, at 6-6 struggles with his pad level. Displays decent bend for his size when asked to coil up into his stance. However, his initial movement off the line is upright and exposes a lot of his frame into contact. Fails to consistently gain leverage at the point and can be overwhelmed/washed out when run at. When trying to anchor at times will lunge into opponents off the snap, try to anchor his feet into the ground and gets straight legged, failing to disengage quickly and ends up on the ground too often. Uses his long arms well and displays some shiftiness for his size to slip off the snap and/or down the field. Works hard to play the piano down the line and has a motor that runs non-stop. However, struggles to consistently fend off blocks when a defender gets his hands on him. Looks better suited to play as a base DE or 5-technique in a 34 at the next level where he can set the edge and use his length to play off blocks.
Is a hard-working pass rusher who again struggles with his pad level off the ball. Exhibits some intriguing short area/lateral quickness for his size and uses his length well to keep himself clean. Doesn't exhibit a real impressive pass rushing arsenal and fails to consistently win as a bull rusher. However, possesses a good first step off the snap and does a great job keeping opponents from getting their hands on him. Consistently is able to knock opponents' punch away and has some savvy pulling the rug out from blockers and using his quickness to get up the field. Gets upright still when closing on the ball and will struggle to break down because of his pad level. Nevertheless, creates pressure because he can keep himself clean and works until the whistle.
Impression: Isn't a guy who can hold up vs. the run inside in the NFL and isn't a dynamic pass rusher either. However, as a base DE I can see him finding a home with some versatility on 3rd down. But, looks more like a rotational NFL lineman to me and potential starter only.