September 29, 2011 -
National Football Post
Prospect of the day: Nebraska OLB Lavonte David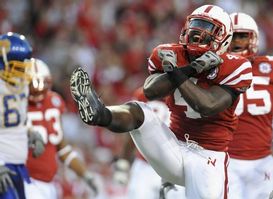 ICONDavid plays with a real passion for the game.
OLB Lavonte David: No. 4 (6-1, 220)
A shorter, athletic-looking linebacker with a muscular lower half/base. Is slightly undersized, but plays with a burst and has some explosive qualities to his game. Reads and reacts quickly to the inside run game. Does a nice job initially locating the football, generates a burst when asked to close and takes consistent angles in pursuit. Lacks elite straight-line speed/closing range, but is still a plus in that area and can make plays consistently off his frame. Does a nice job avoiding blocks inside, is light footed, feels traffic around him and displays that 6th sense to slip a block and put himself in position to tackle the ball carrier. Reads the interior of the O-line well, consistently gets early jumps on the football and takes proper gaps inside. Is a solid wrap-up guy in pursuit. Has a snap into contact, explodes through the hips and is more physical on contact than his frame would suggest. Has a strong punch as well when asked to take on blocks at the point. Does a nice job staying violent and will shed. Takes on pulling guards with good pop and leverage, however, just doesn't have the lead in the pants needed to consistently anchor. Seems a bit short armed as well, when he gets high in space as a tackler, struggles to get into the frame and can see a stiff arm causing him to fall off his target.
Displays impressive footwork and balance in coverage. Is fluid in the hips, coordinated with his footwork and has the ability to cleanly redirect, maintain balance and close on the throw. Looks natural when asked to turn and run as well, keeps his base down, snaps his head around and quickly and locates the football. Lacks ideal size and can be a target of being boxed out once he gives up a step. However, can turn and run with the tight end down the seam and gets good depth in his drop. Displays a natural feel recognizing routes in coverage and seems to always be around the football. More than held his own in man vs. some of the Big 12's best pass catchers and should be able to do the same in the NFL.
Impression: He's undersized, but is instinctive. Might be limited to more of a cover two type scheme only, but looks like a starting caliber weak side guy to me early in his NFL career.