November 11, 2011 -
Barry Dorey
Prospect of the day: Northwestern DE Vince Browne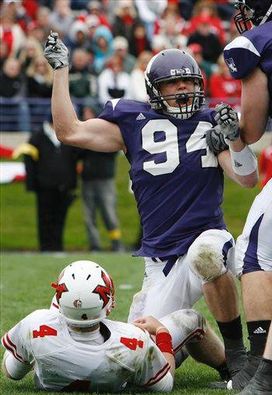 ICONTo his credit, Browne brings it on every play.
DE Vince Browne: Northwestern (6-5 265)
A tall, lean defensive end prospect who doesn't look real flexible sitting into his stance. Struggles to keep his butt down, isn't a natural bender and has a less than impressive first step off the line. Isn't a guy who possesses the burst to threaten the edge even at the college level. Allows his pad level to get upright and doesn't have the ability to drop his shoulder when turning the corner. Works hard toward the edge, but can easily be pushed past the play because of his high pad level as he exposes too much of his frame/chest into contact. Is a linear athlete as well, struggles to re-direct, doesn't have much shiftiness when trying to change directions and his only counter is a spin off his "speed" rush, but he doesn't exhibit much closing speed off it once he gains a step. Doesn't have the power in his lower half or the ability to gain leverage to work the bull rush. Tries to threaten gaps on the inside through the C Gap, but doesn't do a great job extending is arms and using his hands, leads with his shoulder too often and can easily be stonewalled on contact.
Isn't a consistent anchor player vs. the run game either. Allows blockers to routinely get under his frame, doesn't generate much pop out of his stance and can consistently be jolted/handled on contact, even vs. tight ends. Works hard and does use his arms better vs. the run. Has some wiry strength to his game and can slip blocks at times through contact, using his long/lean frame to slip past blocks. But, isn't real balanced in any area of the game, ends up on the ground too often and lacks the range to routinely make plays off his frame.
A long, lean kid who plays hard, but struggles with leverage, isn't real explosive and I don't think he's going to be able to find a home in the NFL.
Follow me on twitter: @WesBunting
Check out the NFP's NEW DRAFT PAGE...