October 06, 2011 -
National Football Post
Prospect of the day: Notre Dame CB Robert Blanton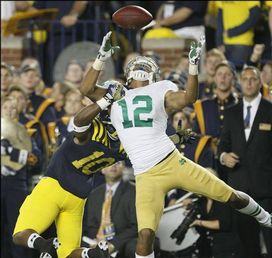 ICONBlanton does a nice job tracking the football.
CB Robert Blanton: No. 12 (6-1, 200)
A tall, long armed defender with a big frame and an imposing presence off the line. Does a nice job using his length to disrupt off the line in press coverage. He does a good job shooting with his proper hand and when he gets into contact has the body control to stick through the play and make it tough to disengage. However, he isn't the quickest off the line and really struggles with his lateral quickness at times, allowing receivers to free themselves off the line. He does get a bit leggy and gives up initial separation down the field. He possesses good straight-line speed for his size, but isn't a real gifted self-starter and needs a couple steps to get up to speed.
In press bail, he will sit into his drop initially and will stay somewhat compact/balanced with his footwork in his drop. Gets good enough depth, but again will pop upright and get leggy out of his breaks in space. The same flaws show up in zone coverage, as he bends over at the waist when he plays with his back to the sideline despite having a solid feel of routes developing around him. He will too often take additional steps in order to collect himself before getting out of his breaks and closing on the ball. For his size, he exhibits good enough fluidity but he just wastes too many steps trying to breakdown and close when asked to play in space. Is a solid wrap-up guy, but I would like to see him take more pride in defeating blocks on the edge for his size; he gets hung up to quickly.
Impression: Is a nice sized kid with some press man skills and upside. Is a bit scheme limited, but he's a good size/speed athlete who can re-route off the ball. Has some starting upside, but as of now looks like a draftable reserve who needs to play on the outside.