September 20, 2011 -
Barry Dorey
Prospect of the day: Notre Dame WR Michael Floyd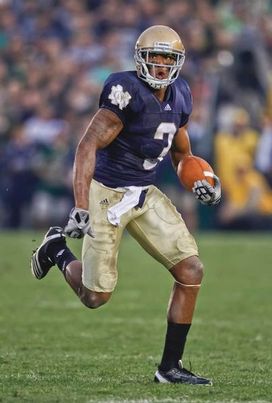 ICONFloyd has been impressive this season.
WR Michael Floyd: No. 3 (6-3, 220)
When this guy is 100% healthy, look out because he possesses the kind of athletic and physical skill set needed to consistently win on the outside at the next level. Blessed with a thick, well-built frame, Floyd does an excellent job using his quickness and strength to slip/shrug cornerbacks off the line vs. press and gets into his routes quickly. He showcases impressive overall body control and balance as a route runner and knows how to set up defenders and cleanly change directions out of his breaks. Displays a real suddenness to his game for such a physical specimen and really impressed me with his overall lateral coordination on all levels of the field. Plus, he's a load to bring down after the catch and runs with great power, accelerating quickly into daylight.
Has the ability to make plays vertically down the field, eats up the cushion quickly off the line for a guy his size and has a bit of a second gear once he gets into his stride. The further he gets down the field the harder he is to cover, as he does a great job locating the football quickly, high pointing the throw and coming down with the catch. Now he does lack elite straight-line speed, but because of his power and overall acceleration for his size, he's still very tough to stay when asked to get vertical.
Got himself into trouble at times during his time at Notre Dame with his latest arrest coming in June of 2011 on a drunken driving charge, his third alcohol related offense since 2009. He looked to get a bit bulky as a junior in 2010, which tightened him up in the hips, as he didn't' generate the same type of separation in the three-step game and/or down the field as he did in 2009. It will be interesting to see what weight he comes in at as a senior because he was much more effective in all areas of the game under the 227-pound mark he played at in 2010. Nevertheless, he still uses his body extremely well in order to go pluck the football and has long arms, strong hands and impressive range off his frame when asked to go make a play. He can be effective in tight areas and use his size to win match-ups even when covered up.
Impression: Didn't seem quite as dynamic as a receiver when bulked up, however, he seems to have leaned himself out this year and should end up being one of the top wide outs to come off the board in April.