October 12, 2011 -
Barry Dorey
Prospect of the day: Ohio State OT Mike Adams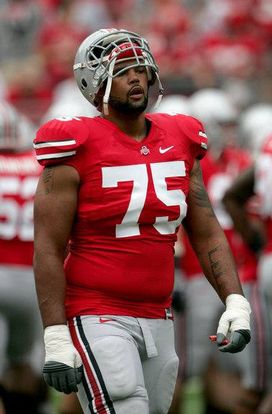 ICONAdams possesses an NFL ready frame.
OT Mike Adams: No. 75 (6-6, 310)
A tall, long armed, athletically built offensive tackle. Displays good initial quickness off the snap in the pass game. Displays the ability to keep his base down on his initial power step off the line from a two-point stance, but will bend at the waist and get upright when asked to play from a three point stance. Nevertheless, the guy can bend. Displays natural fluidity in the hips and good short area quickness toward the edge and when asked to mirror. Struggles with balance and footwork at times, gets overextended when trying to shuffle and slide on a counter. Needs to continue to clean up his lower half technique and do better job staying more compact and balanced when changing directions. However, looks much more balanced as a senior and seems more patient in space and trust his technique much more in 2011. Is long armed and keeps his hands up in order to protect his frame, and again has improved his punch as a senior, looking more coordinated and patient into contact as he keeps his chest plate clean.
Is an athletic kid who has a burst off the football and when he keeps his pad level own he can create a jolt. At times will get upright which negates his leverage, but does have some in-line power. Is at his best crashing down the line inside and delivering a nasty punch in order to seal the edge. Also, possesses the short area quickness/coordination to reach block on the edge and is comfortable in space. Gets a bit overextended trying to breakdown, but for the most part will hit his man. Will miss the first five games of the season for being part of the Ohio State scandal where he was said to have sold memorabilia for benefits.
Impression: He's a talented kid with a big frame, long arms and natural movement skills. He can bend and if he can put it all together and continue to improve his footwork he could certainly mature into a starting caliber left tackle in the NFL.