October 03, 2011 -
National Football Post
Prospect of the day: Ohio State RB Dan Herron
RB Dan Herron: No. 1 (5-10, 212)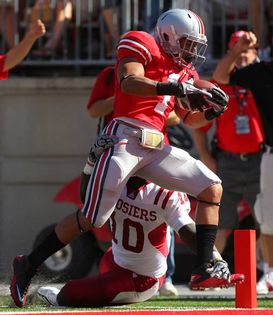 ICONHerron runs hard and can create for himself when need be.
A workhorse of a college back who is comfortable carrying a heavy load. Possesses a compact frame with good overall muscle tone throughout. But, is a bit narrow through the hips and doesn't have the type of body to just simply pound the football 25+ times a game in the NFL. Nevertheless, is a naturally strong kid who gets better as the game goes on. Runs with a good forward lean when pressing the hole. Keeps his pad level down, is decisive when asked to pick his way through traffic and does a nice job setting up blocks inside. Isn't overly fluid laterally, but displays impressive footwork/balance and has the ability to consistently side step/break tackles in tight areas. Runs with a good foundation, is tough to knock off balance and once he slips/breaks a tackle, he accelerates quickly into the open field. Likes to finish runs into daylight, but isn't overly dynamic in the open field. Possesses only average straight-line speed -4.5 range- and can be tracked from behind. However, has the ability to create his fair share of long runs because of his ability to break tackles inside and at the second level.
Looks coordinated in pass protection, takes good angles toward his target, will drop his pad level into contact and routinely can cut his man to the ground. And has the type of demeanor to hold his own in blitz pick up in the NFL. Also, can catch the football out of the backfield. Isn't going to create vs. man, but plucks throws off his frame and quickly snaps his head around, settles himself and can make a defender miss initially. Will miss the first five games of the season for being part of the Ohio State scandal where he was said to have sold memorabilia for benefits.
Impression: Isn't dynamic really in any athletic and/or physical aspect. However, he runs with a strong base, has impressive short area quickness and a natural feel between the tackles. Can certainly contribute early in his NFL career in a rotation and will create for himself if he has to.