November 10, 2011 -
Barry Dorey
Prospect of the day: Oklahoma CB Jamell Fleming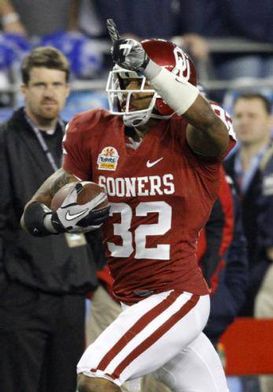 ICONFleming looks poised to move up draft boards.
CB Jamell Fleming: Oklahoma (5-11, 191)
Possesses good height and length for the position. Is a bit thin framed, especially through the lower half, but has the natural size to continue to fill out. Is a smooth, coordinated corner who does a nice job off the line sitting into his drop, cleanly works his back-pedal and maintains good balance throughout. In off coverage/zone will start to get a bit upright at times taking away from his initial burst. However, he doesn't waste much movement out of his breaks and possesses a good closing burst on throws. Displays good instincts as well. Has a natural feel for the pass game, deciphers information quickly and routinely gets early jumps on the football.
Plays fast, displays good lateral quickness when asked to play in man near the line. Isn't overly physical, but does a nice job being patient, looking fluid when opening up his hips and getting up to speed quickly. Possesses good speed for the position, but not great. However, plays fast because he can keep his pad level down when asked to turn and run, tracks the ball well vertically with the body control to adjust and get his hands on the pass. Displays good confidence vertically and does a nice job maintaining his footing when asked to look and lean. Will at times get caught drifting backward off the line in press bail and won't keep his feet under him. Possesses the body control to catch himself quickly, but will give up inside leverage at times.
Isn't a real physical kid on the outside when asked to fend off blocks and tackle in the run game. Displays some savvy timing up snap counts and flying off the edge, but is a drag down guy only who can be handled and pushed past run plays easily. Plays exclusively on the boundary and his lack of elite make up speed might be covered up by playing in tight areas often. Wasn't enrolled at the University during the spring of 2011 for academic issues. But was re-enrolled the following June.
Impression: He's a balanced, coordinated kid who keeps his feet under him when changing directions and can turn and run. Doesn't give up much separation, knows how to make plays on the football and if he can improve as a tackler looks like a guy who warrants a starting job in the NFL down the line.
Follow me on twitter: @WesBunting
Check out the NEW 2012 DRAFT PAGE...