October 26, 2011 -
National Football Post
Prospect of the day: Oklahoma DE Frank Alexander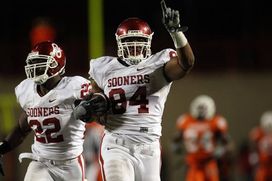 ICONAlexander is playing his best football in 2011.
DE Frank Alexander: Oklahoma (6-4, 255)
A tall, long limbed defender with a thinner lower half and a big set of feet. Doesn't look natural when trying to coil up into his stance. Has a tough time keeping his butt down and sits high. Gets upright consistently off the football in the pass game, doesn't eat up any space initially and lacks the burst to threaten the edge. Isn't a real explosive athlete, doesn't have the speed to threaten the edge or the flexibility to flatten out. Did a better job as a senior playing lower into contact. Does a good job extending his arms and using his length to eventually work himself free as well. Looks more balanced/sudden when looking to disengage as a power player and creates most of his pressure disengaging from contact. Has a good motor and works through the whistle, creates most of his pressures because of his motor and length, but isn't by any stretch a consistent pass rusher.
Isn't a consistent anchor player vs. the run game either. Again gets high off the ball, exposes his pad level and can't sit into his stance. Isn't effective on the move vs. slide down blocks, lacks the athleticism to beat an offensive tackle to a spot, gets upright and can easily be sealed from the football. Works pretty hard in pursuit from the backside, but is upright and looks stiff when closing. Isn't going to make plays off his frame routinely in the NFL.
Impression: Isn't a great athlete, but is improving his pad level and uses his length to fend off blocks. Should at least give himself a chance of working his way into a rotation because of his size.
Follow me on twitter: @WesBunting