September 16, 2011 -
Barry Dorey
Prospect of the day: Oklahoma WR Ryan Broyles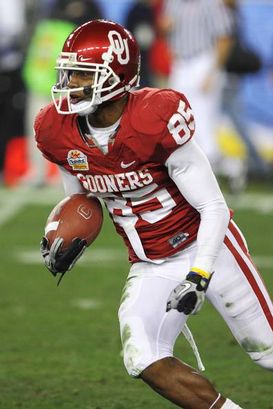 ICONBroyles can create with the ball in his hands.
Possesses average height for the position with a thinner, yet muscular frame. Isn't real thick through the waist, but has a strong set of legs and thighs. Is a natural receiver who has a good feel for the pass game, knows how to sit down vs. zone coverage, snap his head around and pluck the football. Exhibits "plus" body control and awareness along the sideline catching the football off his frame and getting his feet in bounds. Doesn't have the kind of physicality to routinely beat press coverage off the line and will struggle to fend off defenders who get into his frame both off the line and down the field. Doesn't absorb/fight through contact well and can be slowed through contact.
Displays good speed, not elite, but plays fast on vertically breaking routes. Is subtle/explosive when using a shimmy to get behind defenders and accelerates quickly down the field. However, needs to set up defenders in order to get behind them, doesn't have the kind of elite second gear to simply outpace NFL corners. Looks natural working the double move, sells it well, maintains balance and quickly gets back up to speed. Possesses good body control on inward breaking routes as well, gets a bit choppy at times getting out of his breaks, but is concise as a route runner, works his angles back toward the quarterback and use his body in order to shield. Showcases good short area quickness out of his breaks, gets a bit sloppy with his angles on outward breaking routes, but is fluid in the hips and generates a burst away from defenders in tight areas. Can create after the catch. Isn't as dynamic in the open field as many believe. But takes what the defense gives him, has the wiggle to make a man miss and accelerates quickly.
Impression: Isn't a legit number one type wide out and isn't a guy who I would even play on the outside in the NFL. However, has the polish and quickness needed to separate underneath and should be a solid contributor early inside for an NFL offense.