October 31, 2011 -
Barry Dorey
Prospect of the day: Penn State DT Devon Still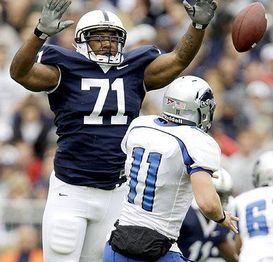 ICONStill has been impressive all season long.
DT Devon Still: No. 71 (6-5, 310)
A tall, physically put together defensive lineman with good girth through the lower half, but has the frame to get even bigger. Possesses "plus" power and get off burst for his size, but is still learning how to put it all together. Has the ability to bend, as he at times keeps his base down and butt under him off the snap. And when he can gain leverage on contact the guy has the ability to consistently overwhelm at the point and dominate. Possesses good power on his bull rush, exhibits the strength to consistently drive blockers into the backfield and is also much more sudden laterally when his feet are under him. Has improved his overall pad level as a senior and has been much more balanced and consistent staying on his feet because if it. Displays some developing pass rushing skills, used his hands much better toward the end of the year in order to defeat blocks. Showcases a nifty arm over, some natural lateral quickness when trying to slip blocks and can simply overwhelm and/or pull the rug out from a blocker. When he gets high he can easily be stonewalled and has a somewhat inconsistent motor. However, to his credit he's done a much better job this year staying motivated throughout the course of the game.
When the pad level is down in the run game, the guy can anchor, shed and make plays off his frame. Is long armed, can gain inside leverage and use his power/quickness to rag doll blocks and disengage. Again, is doing a better job as a senior coming off the ball low and when he's motivated, keeps his pad level down and gets off the snap on time he can routinely threaten gaps or simply overwhelm on contact. Seems to be paying more attention to detail as a senior, as his ball awareness and snap recognition have both improved as well. Possesses the athleticism to get up and down the line defeating reach/slide down blocks, but again motor and passion have both come into question with this guy.
Impression: Is really starting to put it all together as a senior. If you can keep him motivated has the talent to mature into a very good starting caliber lineman at a number of positions in the NFL.