September 23, 2011 -
National Football Post
Prospect of the day: Pittsburgh OL Lucas Nix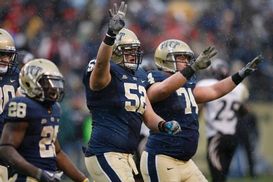 ICONNix is comfortable at the second level.
OG Lucas Nix: No. 52 (6-5, 310)
A taller guard who has added some weight during his time at Pittsburgh, mostly through the upper half. However, he possesses decent muscle tone through his lower half and naturally has an athletic build. Played some right tackle in 2010, but doesn't seem to possess the natural range to routinely hold his own vs. speed. Is better suited to play inside, where his natural lateral quickness shows up well in the pass game. Doesn't do a great job keeping his base under him off the snap but gets off the ball well and stays balanced and compact off the ball while keeping his pad level down. Is a natural bender who looks coordinated when asked to mirror in pass protection, but he isn't a real compact puncher and at times will get overextend into contact. However, he exhibits the recovery quickness to make up for a false step, takes good angles and can keep the inside of the pocket clean. Will continue to develop as a puncher and with balance, but athletically he can hold his own in space. Also, he exhibits some natural anchor ability, can stay low and absorb contact, but is more of a catcher. I would like to see him continue to improve his punch and stick through contact, as he has a tendency to get overextended and will fall off blocks at times.
Exhibits the ability to keep his pad level down off the ball, but too often his base is over his shoulders. He will drop his head into contact as an in-line guy and doesn't gain the type of leverage needed to drive defenders off the football. However, he takes good angles when trying to create run lanes inside, is quick off the ball, can seal quickly and keep his man from the play. He is also very impressive when asked to block down, he looks much more explosive off the snap, and he snaps from the hips and into his punch, running his legs well through contact. Plays with a mean streak, loves to finish and has a real nasty demeanor to his game, always looking to hit someone. Exhibits good body control at the second level when asked to break down, but at times seems to key up and will take himself out of plays trying to cut down targets. If he can improve his pad level a bit out of his stance, he has the natural get-off explosion to create movement and looks to have the flexibility capable of doing so.
Impression: A good athlete for the position who can win in the pass game and seal lanes inside as a run blocker as well. Has some upside as a power play moving lineman off the ball and looks like a capable starter in the NFL.