November 07, 2011 -
National Football Post
Prospect of the day: San Diego State LB Miles Burris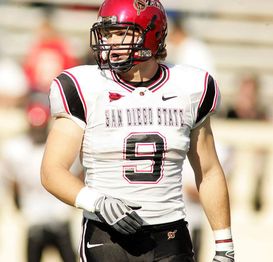 ICONBurris plays fast in pursuit.
LB Miles Burris: San Diego State (6-3, 235)
Burris possesses a thickly built frame with good overall girth strapped through his upper and lower half. He displays a real explosive element to his game when asked to attack downhill. He has a natural first step with a real burst to his game and good straight-line speed in pursuit. He exhibits the range to finish in pursuit, wraps well on the ball carrier and finishes with a lot of anger to his game. Burris plays the game the way it's supposed to be played inside. He works hard, displays good instincts with enough power/short area quickness to fend off blocks inside and scratch his way toward the ball carrier. He plays with good leverage inside when taking on blocks, understands angles, gets his shoulder properly aligned with leverage when taking on full backs in the hole and exhibits the balance to stack, shed and accelerate toward the ball carrier. Now, he is a bit linear of an athlete who will struggle to breakdown quickly in space. But once he collects himself, he really bursts out of his breaks and extends his arms well vs. offensive lineman at the second level. He possesses the natural power to stack, though he is a bit inconsistent shedding vs. longer lineman, lacking the type of fluidity to quickly disengage if he doesn't keep himself clean initially.
Burris is more of a blitzer off the edge on passing downs. I don't want to call him a natural pass rusher, but he does have the ability to drop his pad level and gain leverage when trying to reach the edge and does exhibit an understanding of using his hands to gain leverage and then shed quickly on contact. He recorded 9.5 sacks as a junior and he can routinely create pressure off the edge as an extra rush guy. He's a bit tight hipped in coverage; he gets only average depth in his drop and needs to chop his feet in order to collect himself out of his breaks when changing directions. But, Burris does a nice job keeping his feet under him and can accelerate quickly when he regains his footing. He displays solid instincts in the pass game and is routinely around the football. He doesn't have a ton of experience turning and running with receivers down the field, but has the straight-line speed to do so. Plays like a 4.5 guy.
Impression: A nasty, hard working football player who displays good instincts, a great motor and a lot of explosive elements to his game. At worst, Burris is a stud special teams guy with the ability to start at the next level. He can play either inside or out as well.
Follow me on twitter: @WesBunting