December 05, 2011 -
Barry Dorey
Prospect of the day: Southern Cal ILB Chris Galippo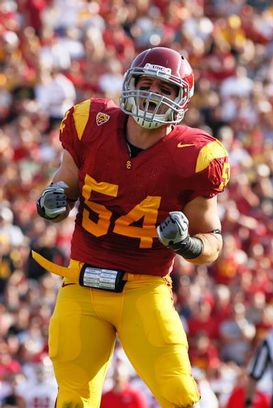 ICONGalippo has the size to intrigue
ILB Chris Galippo: Southern California (6-2, 250)
A thicker, squattier inside linebacker prospect who has experience playing on the weak side as well. Is a willing tackler inside the box when asked to play as a downhill guy. However, isn't overly instinctive, but doesn't take many false steps initially, he just fails to consistently get good jumps on the play reading off blocks and giving himself a chance to make impact play. Possesses some pop on contact taking on linemen at the point of attack. However, needs to do a better job extending his hands/arms into contact in order to shed. Too often leads with his shoulder and doesn't give himself a chance to disengage and make a play off his frame. Lacks ideal short area quickness as well, has a tough time avoiding blockers in tight areas and is average at best in pursuit when asked to close.
Is limited vs. the pass game. Didn't start for the first half of the year in 2010 and in my opinion it was because of his lack of ideal range/fluidity in space. Is tightly wound, doesn't re-direct and accelerate quickly and gets only limited depth in his drop. Doesn't do a great job feeling routes develop around him either and quickly driving on receivers under him. Seems to drift too often in space, isn't a real proactive player and lacks the fluidity/burst to turn and run with tight ends/backs down the seam.
Impression: An average athlete who has never lived up to his high school billing. Is average at best vs. the run game, struggles vs. the pass and in my view doesn't seem to warrant much more than a FA grade.
Follow me on twitter: @WesBunting
Check out the NFP Draft Page here.