October 10, 2011 -
National Football Post
Prospect of the day: Stanford TE Coby Fleener
TE Coby Fleener: No. 82 (6-6, 248)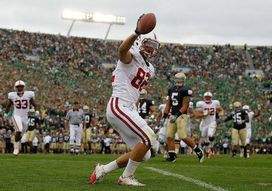 ICONFleener can consistently create in the pass game.
A tall, athletically put together tight end with a leaner frame, but has the ability to add more girth as he matures. Is natural sitting into his stance. Fires off the ball low and doesn't waste any motion getting into his routes. Does a nice job exploding off the line and can get into his routes quickly. Is a good straight-line athlete when asked to run vertically down the field. However, it's his savvy that really makes him a tough cover. Knows how to use a subtle head/shoulder fake in order to set up defenders and does a nice job changing gears as well. Accelerates quickly down the field, tracks the football well and is coordinated enough to adjust. Also, displays good fluidity and balance on his sharply breaking routes. Stems his route well, is sudden/quick footed in tight areas and displays burst out of his breaks. Does a nice job using his strong hands and long arms well in order to separate vs. defenders who want to get physical. Likes to use their momentum against them as he gets them off balance and accelerates toward space. Finds soft spots well underneath and isn't afraid to work the middle of the field.
Isn't used a ton as an in-line guy in the run game. More of a motion/move tight end who look natural in space pulling into the second level and hitting a moving target. Doesn't do a great job breaking down however, gets a bit overextend at times into blocks, but can reach defenders off his frame. Has the ability to gain leverage in the run game, just lacks great strength in his lower half at this stage to routinely get a push. However, it should improve with time. Displays natural balance in pass protection on the rare occasions they do keep him in and can hold his own reaching the corner and anchoring initially with some consistency on the edge when helping with the double

Impression: An impressive pass catcher who can win both down the field and underneath vs. man coverage. Has the frame and flexibility to develop into a solid blocker as well and looks like a future starting caliber NFL TE.