September 30, 2011 -
National Football Post
Prospect of the day: Tennessee DL Malik Jackson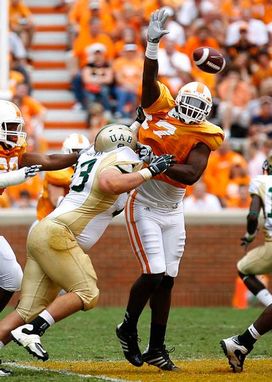 ICONJackson has the frame to intrigue.
DE Malik Jackson: No. 97 (6-5, 270)
A tall, athletically built defensive lineman who possesses a long wingspan and some real violence to his game when asked to use his hands to shed blocks. Coils up decently into his stance, but has a lot of leg and struggles to keep his base down and head up at times. Gets inconsistent with his pad level off the ball as a pass rusher because of it. When trying to shoot gaps at times does a nice job staying low and extending his arms into contact in order to create a jolt. However, for the most part his pad level comes up, head stays down and doesn't use his long arms to protect himself. Can be jacked on contact and doesn't create a push as a defensive tackle. Displays some natural athletic ability when asked to loop/stunt inside. However, hasn't put it together with his pass rush arsenal yet. Is more of a linear guy only at this stage who lacks a counter/ change of direction ability. Nevertheless, consistently gets his long arms up in pass lanes and knocks a lot of throws down.
Displays impressive athletic ability though and when he does get his hands up off the line he can consistently keep himself clean and works like a bear in pursuit. Showcases great range off his frame for the position and demonstrates a good motor to go along with it. Exhibits a natural anchor as well for his size when asked to play the piano down the line. Is coordinated/powerful initially on his punch, can control blocks and work his way in pursuit. However, gets overextended and upright causing him to struggle with balance when asked to breakdown at make a play on the ball. Also, sees time at DE and looks much more coordinated when asked to get into contact, extend his arms and use his violent hands to shed. Lacks the anchor to hold up consistently inside vs. the downhill run game at the next level, as he can be easily sealed on contact. Needs to penetrate and win with his first step in order to be effective vs. the inside run. Holds up very well on the outside though, setting the edge, playing off blocks and working toward the football.
Impression: A great looking athlete. Has some real work to do from a technique standpoint and is playing out of position at Tennessee. However, has a lot of upside as a DE both in a 43 and 34 front in the NFL and looks like a really intriguing developmental defensive lineman at this stage with starting upside long term.