September 07, 2011 -
Barry Dorey
Prospect of the day: Texas A&M QB Ryan Tannehill
The Breakdown…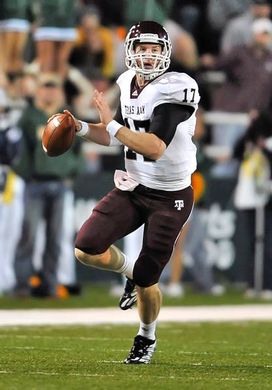 ICONTannehill is a threat outside the pocket.
QB Ryan Tannehill: No. 17 (6-4, 220)
A former high school quarterback who made the move to wide out as a freshman and led the team in receptions during the 2008 and 2009 seasons. Made the move back to quarterback in 2010 and led the team to six straight victories at the end of the regular season. Is simply a natural football player who has an impressive feel of the game. Despite not having a ton of experience as a college quarterback, did a great job quickly getting away from center, settling his feet into the three-step game and was balanced/accurate getting the ball out on time. Possesses a quick release, and exhibits some natural torque from his wrist that allows him to really spin the football. Has a good arm, not elite, but his ability to cleanly spin the ball and transfer his weight off his back foot allows him to make all the throws. Can stick the deep out, displays consistent plant leg placement when striding toward his target and his ball placement/accuracy are very good in the short/intermediate pass game. At times gets a bit upright in the pocket, which will take away from his base and ability to really generate power from his legs, but torques well at the waist and his lower body mechanics should continue to improve with experience.
Is a natural athlete who has a good feel in the pocket, Keeps his eyes down the field when he feels pressure, looks natural stepping up in the pocket and will deliver the football in the face of pressure. Isn't afraid to stare down the barrel of the shotgun and take a lick. Can create with his legs once he breaks contain, isn't overly shifty, but has good enough straight-line speed to do damage in the open field. The game really started to slow down for him toward the end of the year as he did a better job recognizing blitzes with his pre-snap reads, got the ball out on time and used his eyes well to work the entire field. Is decisive in the pocket and has the ability to routinely go through progressions across the field.
Gets a bit sloppy with his vertical passes down the field. Does a nice job looking off defenders, but will throw blind into coverage and seems to fall off bucket throws, dropping his elbow in the process. I wasn't overly impressed with his touch down the field at this stage. Also, needs to do a better job taking some velocity off throws underneath, at times puts a little to much on passes underneath when throwing in rhythm, causing a lot of dropped passes because his receivers can't adjust. Throws well on the move when he squares his shoulders, at times gets lazy though and will throw off balance causing passes to sail.
Impression: He's smart, athletic, can make all the throws and the team really responded to him. His flaws are correctable and it's crazy to where this guy could be in five years with more experience and coaching. A potential franchise quarterback in my mind.