December 07, 2011 -
National Football Post
Prospect of the day: Texas LB Emmanuel Acho
The Breakdown…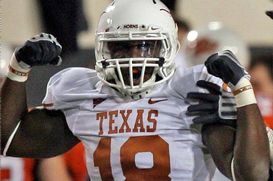 ICONAcho has a passion for the game.
ILB Emmanuel Acho: Texas (6-2, 245)
Looks a bit taller than his frame indicates, he's a long armed and long legged guy for the position. However, displays natural bend/flexibility through his hips and knees, can sit in his stance and gain leverage into contact. Isn't a real explosive stop and start athlete, he is more graceful/balanced than explosive. Nevertheless, does a nice job inside vs. the run game, reads and reacts quickly to his keys inside, routinely is able to sniff out the football and can generate a snap into contact. Is a "plus" tackler who breaks down well in tight areas, lowers his pad level and will wrap through the play. Is also very good taking on blocks -both vs. linemen and tight ends- at the point of attack. Sits into his stance well, keeps his pad level down and is powerful/compact with his punch. Extends his long arms well and uses his violent hands to routinely shed at the point of attack. Knows how to keep himself clean, fend off blocks and wrap on ball carriers off his frame. Played both inside and outside in Texas' 4-3 front and is capable of handling the tight end on the edge or attacking downhill inside. Makes himself small through creases when trying to shed and close on the ball carrier. Maintains balance well and works hard through contact. Possesses a good motor, but only average straight-line speed in pursuit, as I don't see a great closing gear to his game.
Looks coordinated vs. the pass game but isn't the type of quick-twitch athlete who has the ability to hold up in man coverage vs. backs out of the backfield. Doesn't have a great initial burst out of his breaks, can be run away from and doesn't always locate the football quickly. However, keeps his feet under him in zone, stays low and keeps his head on a swivel. Gets early jumps on the football, feels routes around him and is clean to re-direct and close. Looks much more effective as a zone cover guy,
Impression: Isn't a dynamic straight-line athlete, but plays faster because of instincts. Is a good tackler, can shed blocks and plays stronger than his frame would indicate. Has the versatility to play a number of spots in a 4-3 scheme or get some looks inside in a 34. Looks like a potential starter in the NFL either way.
Follow me on twitter: @WesBunting
Check out the NEW NFP Draft Page here...