September 13, 2011 -
Barry Dorey
Prospect of the day: UNC DE Quinton Coples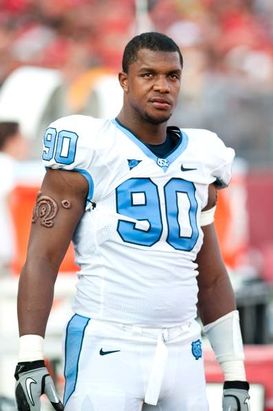 ICONCoples certainly looks the part.
DE Quinton Coples: No. 90 (6-6, 278)
A tall, long armed, athletic defensive lineman with a strong looking frame, he's pretty much how you want to draw up the ideal defensive end prospect. Played a lot inside on the UNC defense because of depth issues, and displays the initial burst off the snap and pad level to surprisingly hold up well inside. Has a tendency to get upright through contact at times, which will cause him to get washed out of plays at times. However, he possesses natural flexibility sitting into his stance and has good snap awareness, a great first step and solid consistency extending his arms and gaining leverage. Has the natural power to anchor inside one-on-one and is a bear to block through the play because of his length. He needs to do a better job disengaging quicker, at times is slow to react to the inside run, but certainly has the skill set to do so. IS a strong anchor player on the edge vs. the run game. He possesses the first step to threaten the C-gap, using a powerful club move in order to gain separation and keep his pad level down through contact. Is a powerful puncher and possesses the upper body strength to simply jolt offensive lineman through contact when he wants to shed. Plays the game with bad intentions in pursuit, his motor is a bit inconsistent at times, but he likes contact and works hard to chase the football and create collisions.
Possesses the skill set to simply not allow himself to be blocked for long, but he's still putting things together as a pass rusher. He has the talent to be dominate though, possessing a great first step both inside and out. Coils up well into his stance, rushes from a four-point stance, but rushes with his ball side foot back, allowing him to quickly eat up space and get toward the edge. He possesses the power in his punch to routinely jolt defenders and moves effortlessly laterally when trying to side step blocks and get up the field. Exhibits the burst to threaten the edge and does a decent job for his size dropping his pad level when trying to turn the corner. However he still gets a bit upright through contact, which takes away from his initial burst when closing. He doesn't quite know how to use his hands well in order to disengage initially, and is more of just a puncher who has the length to create space and will side step. He needs to add more of a pass rushing arsenal to his game and certainly has the talent to do so. Can threaten gaps inside as a three technique as well, keeping his base down initially, and again works hard into contact well in order to keep himself clean.
Was investigated by the NCAA about his attendance at a post draft party.
Impression: Can be as good as he wants to be in the NFL. The game comes very easy to him and he can be dominant if he learns to use his arms even better to slip blocks in the pass game, but with more time I expect that to improve. The sky is the limit.