October 13, 2011 -
Barry Dorey
Prospect of the day: Utah OT John Cullen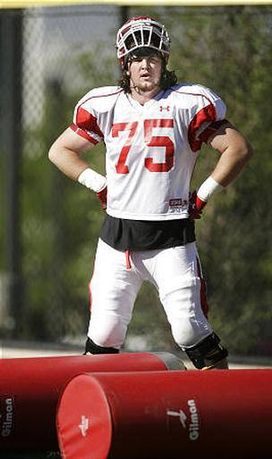 <span>ICONCullen isn't there yet, but has a skill set that is NFL worthy.
OT John Cullen: No. 75 (6-4, 305)
One of the top JUCO recruits coming into the 2010 season who earned an immediate starting spot for the Utes at left tackle. Possesses an athletic build, but average height and overall length for the position. Has a frame that he can continue to fill out, especially through the lower half. Possesses only average flexibility when asked to sit into his stance, but the guy can bend. Does a nice job quickly getting off the snap on his kick step, displaying natural range to the corner and can keep his base under him in pass protection. At times gets caught hunching over at the waist and isn't a real natural puncher/anchor player at this stage.
However, does a nice job keeping his hands up in front of his chest plate, just doesn't know how to let go of them yet with his weight evenly distributed. Will struggle with power, doesn't have the kind of base to consistently hold the point of attack vs. power players and will lunge into contact trying to create more of a pop for himself. Nevertheless, displays good balance, coordination and athleticism with his footwork. Is a natural mirror player who has the range to reach speed off the edge, re-directs well and can shuffle and slide through contact. Is somewhat sticky once he gets his hands on you, but is tough to disengage from because of his lateral quickness.
Is a "plus" move player in the run game. Gets off the ball quickly, displays good range when pulling from the backside and can make plays in space. Does an excellent job reaching a target off his frame, breaking down on contact and has some nasty when asked to finish. Displays the initial quickness to step and seal on the edge as well. However, is still developing as an in-line guy. Has a tendency to roll his hips and get upright off the football when trying to move a target off the ball. Plays from a three-point stance most of the time and I think with some time to develop from a two he could certainly learn how to gain leverage and be a more physical in-line player.
Impression: Is far from a finished product, but there is some real natural athleticism there. Needs to get stronger and develop as a puncher, but if he continues to improve I think he could be one of the real risers at the OT position this year.