October 25, 2011 -
National Football Post
Prospect of the day: Virginia Tech WR Jarrett Boykin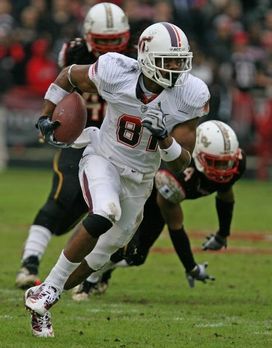 ICONBoykin is strong after the watch.
WR Jarrett Boykin: Virginia Tech (6-2, 218)
A thick, well built receiver prospect with a long set of arms and a massive pair of hands. He isn't a real explosive athlete off the snap, he lacks a great initial burst, isn't a guy who can reach top end speed quickly, and is more of a powerful strider who builds speed as he goes. He exhibits "plus" initial lateral quickness off the line, and when he's asked to beat press he has the ability to get corners off balanced, use his power/length to fend off contact and get into his route. Lacks the ability to generate great initial separation, but can get in between ball and man to pluck the football. He possesses good physicality and ball skills when asked to attack the throw but, also isn't afraid to extend and work the middle of the field, exhibiting a strong set of hands which hold onto the ball and can absorb contact through the play. However, he will have lapses in concentration and at times puts very catchable balls on the ground.
Exhibits some suddenness out of his breaks as a route runner with good balance, keeping his feet under him and generating a burst down the field on vertical routes and a slight snap on sharply breaking routes. However, he isn't the cleanest of route runners at this stage. He tends to get sloppy on his vertical routes at times just rounding his way into/out of his break and lacks the natural explosion to get away with being a sloppy route runner in the NFL. He exhibits deceptive speed down the field, can shrug off defenders with ease who want to be physical vertically, building speed as he goes and exhibiting the ability to track the throw. He looks very natural high pointing the ball and coming down with the catch. He's comfortable working from both the inside and out and is a guy who knows how to generate initial separation. Is a willing blocker, but at times seems content to just go through the motions. However, he is strong enough to consistently win on the outside when he wants to extend his arms and pump his legs. He's physical after the catch and is shifty enough to side step/break a tackle and get up the field quickly but isn't dynamic in the open field.
Impression: Isn't real explosive off the line but plays quick down the field, can get off press, separate and go get the football. Also, he will be able to make plays both inside and out at the next level and should be able to earn playing time at both spots in the NFL early in his NFL career
Follow me on twitter: @WesBunting