September 21, 2011 -
Barry Dorey
Prospect of the day: Washington DT Alameda Ta'amu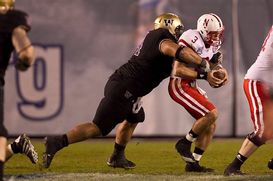 ICONTa'amu can move for a big man.
DT Alameda Ta'amu: No. 74 (6-3, 335)
A massive presence inside, possesses elite natural width and girth through his lower half, but doesn't look soft at all, as he carries his weight very well. Displays the ability to sit into his stance, keeps his base under him and generate a snap off the football. At times gets a bit upright doubles over at the waste into blocks in order to stay low, but he can gain natural leverage bending at the knees. Doesn't have the initial quickness to threaten gaps off the football and penetrate. However, for his size displays a good initial burst, gets into blockers quickly and does a nice job getting under the pad level of opposing blockers and using his hands to gain leverage and fight his way through contact. Displays very good anchor strength inside. Has the ability to eat up the double, sit into his base and is tough to get a push on off the football. Is also very coordinated when asked to play off slide down blocks down the line, using his combination of short area quickness, balance and power he routinely can fend off blocks and works extremely hard for a guy his size in pursuit. Lacks ideal range closing from the backside, but the work rate is most definitely there. Now, is tight in the hips and isn't a guy who can quickly re-direct, shed and work his way back toward the football. However, initially there is some short area quickness in order to keep himself clean –especially in quick set situations- and uses his power to fight through blocks once he gains any kind of step. Possesses only average ball awareness at this time and will take himself out of some plays, but seemed to improve as the season went on.
Isn't going to be a consistent pass rushing threat at the next level. However, has the ability to come off the ball quickly, keep his base down and push the pocket on his bull rush. Works his hands well through contact, is a bit slippery for a big guy and has the motor to fend off blocks and work his way toward the quarterback. Doesn't have great closing speed, but is a tireless worker who has a motor that doesn't stop. Struggles to breakdown consistently on ball carriers and can be side stepped even in a phone booth when in position to create a negative play.
Impression: This is the kind of guy who has the ability to anchor the middle of an NFL defense in either a 3-4 or 4-3 front. Needs to do a better job finding the football, but overall he looks like a starter you can win because of in the NFL.