September 14, 2011 -
National Football Post
Prospect of the day: Washington WR Jermaine Kearse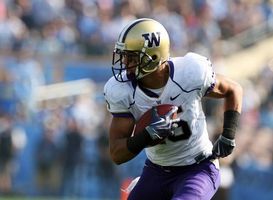 ICONKearse has the talent, but is inconsistent.
WR Jermaine Kearse: No. 15 (6-1 210)
A strong, muscular, well-put together kid who certainly looks the part. Possesses a gifted skill set and has the power, size and speed to create for himself at the next level. However, still has a long ways to go. Isn't real sudden/physical off the line vs. press coverage. Doesn't seem to really like contact, doesn't use his hands well and seems content to try to run around the press. Re-routes himself at times, is slow to escape physical defenders and despite his skill set isn't very effective cleanly getting into his routes. Does a good job eating up the cushion however vs. off, displays a powerful stride, an initial burst out of his stance and has the ability to shrug off defenders vertically and track the football. Isn't a real polished route runner at this stage, struggles to generate much of a burst on sharply breaking routes and has a tendency to chop his feet and gear down before changing directions. Looks too tight in the hips to ever routinely separate vs. NFL defenders in this area of the game.
Is better suited working vertical routes, is used a lot on the slot where he can create miss-matches. However, is inconsistent using his body to shield defenders. Gets caught looking for the safety too often and doesn't routinely pluck the football way from his frame. Has the ability to do so, but looks content to let throws get into his frame and will put the ball on the ground.
Can be physical after the catch. Secures the ball quickly, snaps his head around and will break tackles after the completion. Doesn't have a ton of wiggle to his game, but is physical, balanced and explosive. Can win battles for you on the outside vs. the run game, but doesn't seem to have a real passion to be physical and dominate the way his body type would lead you to believe.
Impression: Looks like a guy who should be able to dominate at the college level. However, he seems a bit disinterested at times, isn't as physical in any area of the game as his frame would indicate and isn't a guy I would trust on the outside in the NFL to make plays for me.